Website & blogs © Louis Kraft 2013-2020
Contact Kraft at writerkraft@gmail.com or comment at the end of the blogs
---
LK is burned out, a skeleton that
functions on reflex. This came about from weeks,
months, and now pushing three years of working almost
seven days a week on the Sand Creek project. It
is now 11jun2019 and I have much that must
still happen for Sand Creek and the Tragic
End of a Lifeway to see the light of day
in 2020. Everything is business, but
key is that LK must provide
OU Press everything it
requires for the book
to be published.
Everything.
This is on me, and I wouldn't have it any other way.
But before I share my progress I want to give you a hint of what follows it.
I was going to use the above image without the words later in this blog but then changed my mind. It dates to 1982 after I returned to SoCal after playing Miles Hendon during a 1981-1982 135-performance tour in Northern California of The Prince and the Pauper (based upon Mark Twain's novel and Errol Flynn's 1937 film). I choreographed the duel in the play and had a living blast during the tour. This image was taken while I worked out with actors that knew how to handle the sword for five one-act plays that were grouped together. We performed them in late spring or early summer. I performed in three of them and wrote one. … A battle of the sexes wherein the hero—yours truly—was done in by a lady who knew how to handle a blade, but was no competition for hero Kraft, who toyed with her before disarming her and forcing her to the ground. She was on her back, unarmed, and at the hero's mercy as the play ended. But all wasn't as it seemed to be. While Kraft bowed and enjoyed the audience's applause and cheering one well-placed punch turned victory into defeat—to the delight of everyone who saw The Fencing Lesson. Well-choreographed slashing blades enacted with sexual innuendo while lightly played for laughs was perhaps one of my better writing/acting efforts … until the lady regained her feet and proceeded to bash the hell out of me with relentless fists that ended the play with a standing ovation—for her. (photo © Louis Kraft 1982)
This blog is much more than a Sand Creek book update
Much-much more. … For it marks the beginning of my writing future. The time has arrived and some of it may shock you, but what follows—like my Indian wars books—has been in place for many years. By that I mean that the research has been ongoing for decades. Decades. This does not mean that I'm turning my back on the American Indian wars, for I'm not … I'm simply changing my focus while continuing to do what I've done for a very long time. It feels like it has been a lifetime coming but with Sand Creek and the Tragic End of a Lifeway racing toward publication the time has arrived.
You know that I'm cryptic at times and certainly secretive. Alas, that still is in place. … This blog will deal with three books, and some important surprises.
There is no reason be silent in regards to the three books
Sand Creek and the Tragic End of a Lifeway (but you knew it was on this list).
Errol & Olivia, which is a dual biography of Errol Flynn and Olivia de Havilland during the making of the eight films they did together.

Research continues on two additional nonfiction books on Flynn.
This change is not a move away from my Indian wars/race passion to the world of film (my other passion), but a continuation while I branch out into areas that have been on my plate for what feels like an eternity.
Navajo Blood, a novel that deals with dark-dark times in the Southwest during the years 1863 and 1864 and will have a mix of real Diné (as the Navajos call themselves) such as Chiefs Manuelito and Barboncito; as well as frontiersman turned soldier Kit Carson, among others; and fictional players, two of whom are key to the entire story.

This novel isn't a one-and-done effort with Mr. Carson.
What follows is my future.
Sand Creek and the Tragic End of a Lifeway status
Ohhh baby is time flying past at lightning speed.
My last manuscript status on these blogs was on the last day of December 2018. Time simply disappears when you're having fun. I often feel as if I'm swimming off the SoCal coast in the Pacific Ocean, and this is good as I've been a fish ever since the first or second grade. But not really for although I'm making deliveries that are mandatory for the Sand Creek manuscript to see print I think that OU Press views my progress as I race toward the finish line closer to "a snail's pace."
I will deliver.
Manuscript delivery
I made the final manuscript delivery in mid-January. OU Press Editor-in-Chief Adam Kane and Production Manager Steven Baker (who I worked with on Ned Wynkoop and the Lonely Road from Sand Creek) have told me that the story flows, is readable, and will do well when published. Adam also told me that the book would sell even if there were no photos or art.
To get to this point in time has never been a one-man show. There have been a lot of people who have unselfishly shared their knowledge, their time, and their patience with me. They have ranged from writer-historians to National Historic Site personnel to archivists to American Indians to friends whose interest is the same as mine to the staff at the University of Oklahoma Press, for without all of them there would be no book. I'm not listing them here but perhaps when I write the blog that announces the publication of the book I'll focus on them (more below).
Images
The manuscript has 34 contracted images and all have been delivered to OU Press (the last two in late May). I've always known what I thought I wanted, but time and due to simply not finding specific photos or art more often than not made unexpected searches mandatory. As with my research on the manuscript many people and organizations played key roles in me actually completing this list. It goes without saying that at times this search was agonizing.
As always for me it is the process, and in the case of photographs, art, and woodcuts it included hot trails that eventually turned ice cold. When this happened I was always disappointed, but that never lasted long. As I've always had backup selections identified, and if they weren't in-house I began new searches.
Working on photos that needed restoration has been an ongoing task of major proportions. Ditto obtaining photos and art from archives as well as individuals. Regrettably some of the archives' responses have been at a turtle's pace. Some have come through and some fell by the wayside as I ran out of time and scrambled to obtain other images. Still many people and organizations stepped up to the plate (a baseball term) in my quest to locate, obtain, and when necessary purchase the images and, if required, the use fees. To each and every one of you thank you from the bottom of my heart.
As announced, and I think at the end of last year, I will not share any image that will appear in Sand Creek and the Tragic End of a Lifeway until it is published. This is firm.
Maps
My cartographer needs to be mentioned; his name is Bill Nelson. I hired him to create two maps for Ned Wynkoop and the Lonely Road from Sand Creek (2011) from my rough drafts. If you've seen the book you know that his work sparkles. One of the Wynkoop maps is displayed below. I again hired Bill for this book, but this time I reworked the two Wynkoop maps to create drafts for him, and he has finished them and they will shine. I hope to deliver my draft of the third and final map to him later this week. Like my original drafts for Wynkoop this map will be rough. Although it now has a firm-no move deadline of August 5 that I think will be fine.
OU Press Managing Editor Steven Baker was, and still is, nervous over the last map ever seeing the light of day, much less making this final deadline. Based upon the ongoing problems I have encountered to create a rough draft of it I am hopeful that it will be of benefit to those who read Sand Creek and the Tragic End of a Lifeway. Steven has every right to be a little on edge. I know the reasons, I know them intimately, but I have no intension of sharing them for it would unleash a tirade that none of us want. Now is the perfect time for me to keep my bleepin' mouth shut. … I needed to calm Steven somewhat, and I had already presented the option of dropping the map from the book, which he shied away from without addressing. I didn't question his silence. … Bill and I will make our deadline.
Is Kraft cocky? At this point in time, yes. I've been in this position so many times over the years (and I'm not talking about just the freelance world) that it's just another day in the LK world of chaos. My knees aren't shaking, I'm not walking around in a cold sweat, and I don't stare with wide-open eyes at the ceiling when I should be sleeping. I have reached the point of deliver or shut up. I've been here many times and it is simply taking it one step at a time. I am confident while at the same time know that if I fail now and the book isn't published that the sun will still rise tomorrow. This is my world, and I'm in my element.
Steven, trust me.
Copyedit
Kerin Tate is my copyeditor for the Sand Creek manuscript. Adam and Steven both highly recommended her. On May 30 she emailed me to inform me that she liked the manuscript, word usage, notes, and was making good progress with minimal changes. Since then we've had more contact and all is good. I'm thrilled to be working with her. We've agreed that she'd deliver her copyedit to me June 24. Previous to this, Steven had agreed to an extension of my review/edit of the copyedit to August 5, due to events, happenings, and Pailin's and my now annual Fourth of July open house/party that includes her birthday. Kerin's delivery is perfect for me and will become my total focus on July 6 (although I will begin working on it after she delivers it).
Years back when I asked a George Armstrong Custer historian (alas, long dancing with angels) if he could have improved his work he replied without batting an eye, "No. My work's perfect." Let's just say no LK comment about his "perfect" work. … I believe that it was in spring 2013 when I spoke at an annual Order of the Indian Wars spring event in Centennial, a suburb (?) of Denver, Colorado. While in the lunch line with friend/historian/writer/radio show host/performer Deb Goodrich—yeah, this lady is multi-talented and I didn't list all that she does—asked me what I thought about my work. "If I could work on my published writing again," I said, "I could improve all of it." This was how I felt then and what I believe today. … History and writing about it is an ongoing process that is in constant change and never ends.
LK w/Deb Goodrich during the evening party after the Order of the Indian Wars Annual Symposium in Centennial, Colo., ended on 20apr2013. I had given a talk about "Ned Wynkoop's Last Stand" during the event. It is based upon a photo by Frank Bodden. (art © Louis Kraft 2019)
My goal—always—is to bring the leading players to life, make the events jump off the page, and have my readers curse me for they can't put down the book and the hour is creeping up on midnight. My copyeditors for Lt. Charles Gatewood & His Apache Wars Memoir (2005) and the Wynkoop book played key roles in making this happen. My hope is that Kerin's copyedit will improve the Sand Creek manuscript while not damaging facts or corrupting Cheyenne words that are correct.
The blog that announces the Sand Creek book publication will also … Gulp … "say it ain't so," LK
… but it is so as I hope to feature as many of you that have helped me as possible in that blog. And here, please don't be like former editor-in-chief of OU Press Chuck Rankin, for if not for him there would be no Sand Creek manuscript or book. My friend prefers to move in the shadows. He couldn't get away with that with me as I have too many images of him. At the moment many of you are under the radar, and that simply means I would like one or two or three images. Do you have photos of "you" that you could share? If yes, I want them. Here I'm talking about you, and many of you are new to the LK world. Honestly, I really want to publicize your efforts and kindness in the creation of the Sand Creek manuscript and book. As they say … "a photo is worth a thousand words," so please be generous.
As Sand Creek charges into history LK's writing future comes into focus
Over the years I have certainly publicized upcoming book projects, and I'm certain that for most of you this has been little more than a lot of hot air. From your point of view, maybe; from mine, reality. What follows is a list, and it is in my current working order. As always, research and more research is behind everything that I write.
Errol & Olivia
Although I didn't know it Errol Flynn would influence my life more than any other historical person, and it began while I was in elementary school. Flynn introduced me to the American Indian wars, piracy, swords, acting, and most important an openness to people of all races. While still an actor I began to research his life in earnest, and in 1996 decided to write a book about him.
My contact with Ms. Olivia de Havilland led to my decision to make it a joint biography beginning with their arrival in Hollywood, being cast in Captain Blood (Warner Bros.-First National Pictures, 1935), their life and times during the eight films they made together between 1935 and 1941 (three of which were westerns). It will include an extended epilogue (similar to Sand Creek and the Tragic End of a Lifeway). Easily 90 percent of the research is complete, but with this said the research is ongoing. As soon as I complete everything that is required of me during the production of the Sand Creek story this will become my number one project. … No more detours
Errol Flynn book number 2 (could be book 3)
By the way, the second book on Flynn will be the best nonfiction book I write. Certainly this research is underway, but a lot more needs to be completed. This will begin in earnest as soon as the Sand Creek copyediting, my reviews of the designed  book pages, I'm good with the dust jacket design and copy, and I've created the index.
Errol Flynn book number 3 (could be book 2)
That's right, I have three books planned on Flynn and there's still a chance that I could partner on this book (but in a completely different way); if true, Mr. Flynn will dominate a good portion of the rest of my nonfiction-writing life.
Navajo Blood
This novel deals with an old Diné warrior and his granddaughter during the 1863-1864 timeframe of the Kit Carson Navajo campaign. I have a polished draft, but recently decided that additional information needs to be added to the manuscript. The goal is to stay true to history while making the characters (real and fictional) come to life. My pitches will begin this year.
Untitled Kit Carson nonfiction book
Primary source research is certainly underway for creating a book about Kit Carson; some of it is already in-house but I need more. If I'm able to locate what I need—and this is mandatory—I'm certain that I'll be able to complete this manuscript without any of the problems I encountered while piecing all the parts of the Sand Creek story into a readable book. A focused continuation of the research will begin in fall 2020.
* I haven't begun to draft a proposal or verbally discuss it with editors yet but this will begin as soon as I have all the required research in-house, and I know exactly what I intend to use. … If I can't find what I believe exists I will extend the scope of the story. For the record I have all the published books on Kit that are worth a damn and way-too-many that aren't. … As soon as I'm satisfied with my primary source material I will draft an in-depth proposal. As with my previous nonfiction work this book will not be like any others in print.
LK Memoir
I've hinted at this for a long time, and both the research and the writing in various forms has been ongoing. Just look at the blogs for they represent some of my digging into the past, but, alas, I have shied away from the incidents/events that if published or made public at this time would cause me to ward off an invasion on Tujunga House by hooded assassins bent upon shutting my mouth for all time. It will be juicy, funny, fast-paced, and truthful (with documentation to back up what I state, something that you usually don't see in memoirs).
The pirate Francis Drake … fiction and nonfiction
I have an incomplete fictional draft of Drake's early piratical days that has a lot of promise.
I also have all primary and secondary sources on Drake published since the beginning of the 19th century (and much of the primary source material dates to the 16th century). Looking at the above writing projects this might sound like wishful thinking on my part. For the record Mr. Drake was light years ahead of his time, which was dominated by racial and religious prejudice and hatred. … What can I say other than I'm an optimist. For some of my views on El Draque, see The pirate Francis Drake and LK.
Various fiction projects
This ranges from Chinese fishermen in Monterey, California, during the 19th century … to modern-day Anasazi cannibalism in New Mexico … to bootlegging on the Navajo reservation … to a continuation of the two leading fictional characters introduced in The Final Showdown (1992) and their relationship with the Cheyenne Indians during the latter part of the 1860s.
All are outlined, in draft form, scripted, or partially written. I have played down fiction, but this doesn't mean that it isn't a medium that I would have any problem returning to full-time.
A slight change of subject, but it is related to LK writing fiction. And it is one that hovers in the shadows of my life on a daily basis. Mainly, will Pailin and I continue to be able to survive in Los Angeles? The cost of living is high, and I hate to say it but it increases almost monthly. California has become the land of the rich.
To repeat myself California has become the land of the rich, the poor, and the vanishing race once called the middle-class. Supposedly if California seceded from the United States it would become I believe the sixth largest economy in the world. This is not a joke and it is something we have to deal with every two or three years when rich clowns (read billionaires) spend a lot of money to make this reality. In two previous attempts to create the new country of California, it had been divided into three states and then six states.
Due to the turmoil that seems to be a daily occurrence in the Golden State I have logged many hours trying to remain in the USA while also exploring becoming an expatriate.
In 2018 a person I considered a friend called me a renegade to our country, damning me as he didn't agree with my views on our country's current policies (which for the most part I avoid sharing, and wasn't discussing when he slammed me).
Being short of cash didn't count—just looking into living offshore turned me into a traitor or worse. Regardless of which is true, I guarantee that one thing won't happen. I'll never become a homeless person. I know a lot of them personally, and my heart sheds tears every time I talk with them as I can't help their situation. See Horsey's cartoon, above, for housing is one of the major culprits (along with LA Mayor Eric Garcetti, who talks a good story while sitting on his ass and dreaming of becoming president of the USA).
The point I'm trying to make is that if Pailin and I are forced to relocate to Thailand or New Mexico or Costa Rica or Arizona or Spain or elsewhere these and other story ideas will find a life of their own as my fingers dance over the keyboard and my fictional world explodes with life.
I know, the above is a shocking mouthful. … So is 'Stayin' Alive.'
High Noon (1952) Elmo Williams' Oscar, UNM, Tomas Jaehn, and Errol & Olivia 
Let's start with Tomas Jaehn, formerly of the Chávez History Library, Santa Fe, who in the early part of this century created the Louis Kraft Collection AC 402 & AC 010 for photographs.
The last two deliveries to the LK Collection have not been catalogued and the archive has not been updated. I've begun to prepare next delivery that will happen after Sand Creek and the Tragic End of a Lifeway is published. It will consist of two books, including The Discovery (2016), magazine articles, and talks, along with personal correspondence and additional photos and art. Access to the archive is by appointment only. Contact Heather McClure at 505.476.5090, heather.mcclure@state.nm.us. This delivery will happen at an undetermined time when I travel to New Mexico. … And it will be huge, including a lot that I have not announced.
For the record once Errol & Olivia is published the Kraft Collection will also contain research, drafts, correspondence, and other material related to the creation of the book including the Kraft-Olivia de Havilland correspondence over approximately twenty years. Some of OdeH's letters were hand-written while others were typed, and I assume by her then secretary but signed by her (meaning that I perhaps have more of her autographs than everyone else put together if we don't count sports stars). During my two visits to Olivia's home in Paris, France, she had two different secretaries. Both were young American ladies. To learn a little more about Livvie, as Errol Flynn called her, see Olivia de Havilland, a world treasure.
In 2006 the Academy of Motion Picture Arts and Sciences (Beverly Hills, Calif.) announced that it would honor Olivia that June.
Some people I thought were friends came out of the woodwork and demanded that I obtain tickets to the event for them. I told them that I was not going to ask for tickets for myself and I wouldn't for them. Whoa baby, did I ever unleash a swarm of hatred directed at me via phone and email. The words were scathing; actually they were much worse. I ignored them, but those relationships didn't survive. … Oh, there was still some connection with a few of the people but it never revived the past. One Flynn expert, and we had shared a lot of information over the years, became the most venomous toward me when I refused to help him obtain a ticket.
For the record OdeH invited LK to attend her gala, and it was some event.
The Flynn expert succeeded in obtaining a ticket and also attended. Surprisingly we spent a good part of the evening together. We even sat together while Olivia was honored on stage by the late Robert Osborne (former host of Turner Classic Movies). We enjoyed each other's company that night, but we never spoke again. He died a few years later and his incomplete manuscript was never published (and I have insider information on why; this is something that I'll never share without permission). No comments here; none whatsoever. He is gone, and so is why he failed so see his Flynn manuscript(s) through to publication.
Back to Tomas Jaehn
Tomas is now Director, Special Collections/CSWR, University of New Mexico Libraries. We see each other whenever he is in LA or I'm in Santa Fe. Always good times. During his last visit to Tujunga House in summer 2018 we talked about a lot of subjects including an upcoming event at UNM.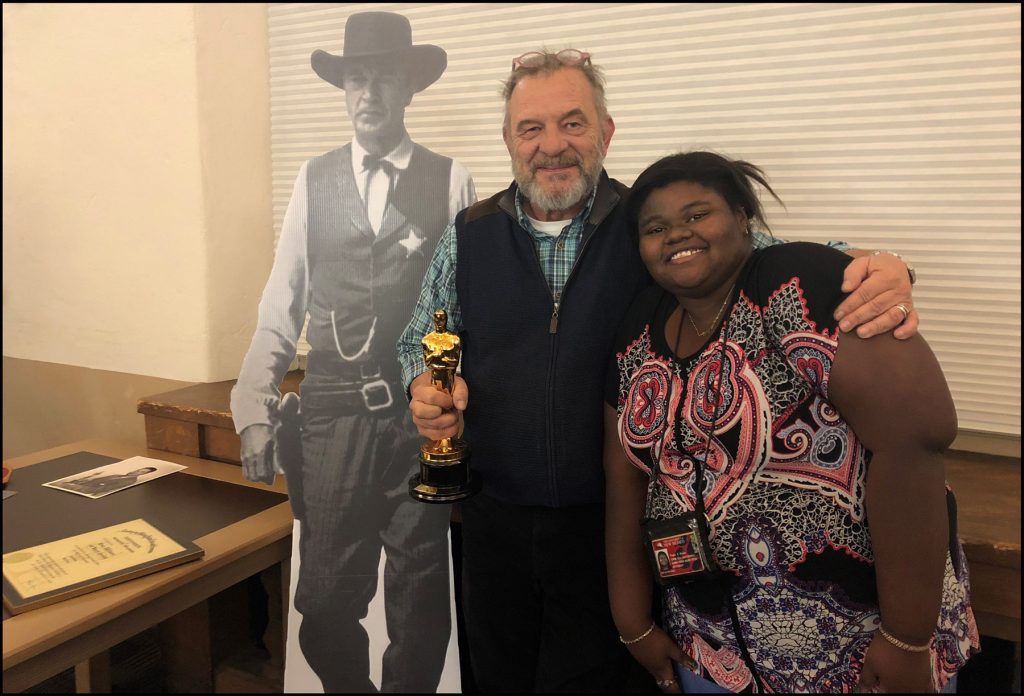 Standing in front of a cutout of Gary Cooper as former marshal Will Kane in the classic 1952 film, High Noon, Tomas Jaehn holds Editor Elmo Williams' Oscar for the film. With him is Topiz, a UNM student employee who Tomas "asked to watch the Oscar during the event." (photo © Tomas Jahen 2018)
Tomas is good at having fun with words. When he sent me the above image he called it an attachment of an 'Albuwood' or 'Hollyquerque' 'pic.'" Love it!
The second showing happened on 1nov18, and Tomas had this to say: "Second showing of the Oscar was a blast. Folks loved it and commented on 'how heavy that thing is.' (A phrase that I hear every time I watch the Oscar events)."
Tomas also mentioned that UNM has Michael Blake's papers. Novelist/screenwriter Blake became a good long-distance friend of mine for many years. He won an Oscar for his script Dances with Wolves (1990). This film has been on my film list and it has been off. There is a chance that it might be on again (but at the moment is still off). I need to watch it a few more times, if for nothing else than to enjoy Wes Studi* and Graham Greene's performances. If yes, I'll talk about Michael. See the section "Michael Blake, a special person and writer" (the second section) in The Louis Kraft writing world differs from other writers' worlds for some of my views of him and of our relationship. Damn do I miss him.
* Wes Studi news flash!
On June 4 the Los Angeles Times (Calendar section, pE3) announced that Wes Studi would be awarded a special Oscar for his contribution to film over his career. Wow! The Times mentioned Last of the Mohicans (1992), Geronimo: An American Legend (1993) (see 1st fifth of a Louis Kraft 50-film list), Hostiles (2017), and Dances with Wolves (1990), among some of his other films.
These awards used to be presented during the live telecast at the beginning of each year but no longer. To save myself time I'm quoting the article: "The Board of Governors of the Academy of Motion Picture Arts and Sciences announced Monday that it will present its annual honorary Governors Awards to director David Lynch, actor Wes Studi and director Lina Wertmüller, while actress Geena Davis will receive the Jean Hersholt Humanitarian Award." The Oscars will be presented at the Governors Awards ceremony on October 27, and although not mentioned I assume at the Academy of Motion Pictures and Sciences on Wilshire Boulevard in Beverly Hills, California.
Finally Mr. Flynn & Ms. de Havilland or more precisely …
Errol & Olivia.
For all of you who have been patient, for all of you who have liked my talks and articles that dealt with them, your time of waiting is nearing an end. Although research on Errol & Olivia has been ongoing writing has been almost nonexistent the last half dozen years. I'm sorry but that is just a fact of life as I had to deal with completing Sand Creek and the Tragic End of a Lifeway to my satisfaction. It will turn a portion of the current literature upside down. … You know what? So will Errol & Olivia. No joke.
You probably think that this is just another LK piece of prose to keep you hanging on. No. Trust me, and I would never say this unless I meant it.
For those of you who don't know, the American Classic Film: The Journal of America's Film Heritage cover art is of EF and OdeH's first film together, Captain Blood. It became a major hit and turned Flynn into a superstar over night (the term didn't exist in 1935) and de Havilland into a star.
Captain Blood was the first of nine Flynn swashbucklers; four of which would become classic films and the best four examples of the swashbuckling film genre to this day.
To repeat what I said in the American Classic Screen cover image above:
"If you know who or what institution/company owns
the copyright of this art please contact me."
If the owner/copyright holder allows me to use the EF & OdeH Captain Blood art by then journal staff artist John Tibbetts (1978), you will receive my eternal gratitude along with a first edition of Errol & Olivia when it is published.
If you supply me with the owner/copyright holder of Mr. Tibbetts'
art and I fail to obtain the required permission I need you
will still receive a first edition of Errol & Olivia.
(For the record I already own the cover art for the second Flynn book.)
The goal is to be back to writing Errol & Olivia full time sometime in early 2020. Heck, that's just around the corner. As I have a little over 60,000 words and am shooting for 125,000 words, I'm roughly halfway to a first rough draft. I'm not joking about Errol & Olivia being different for it won't be like any joint biography that you've ever read and you can take that to the bank. 'Course if you bet on this and win a goldmine don't forget that your ol' pal Kraft, who gave you insider information, would appreciate some of your winnings.
Three LK "long walks" in 2013 and 2015
These three years represent a sad time for me as I walked away from
what has been a major part of my life for decades.
The end of a big part of my life that wasn't a loss
In 2012 I stopped writing for the software world. It was forced but I was good with what happened (other than the lying manner of the presentation). Don't get me wrong for I have had a lot of great memories, and have certainly known a lot of wonderful people from all over the world, in a fast-paced industry that took no prisoners. Put simply, you delivered on deadline or you might walk the plank. Heck, that's not completely true, for sometimes even if you did deliver you might still end up walking the plank.*
* Walking the plank is a piratical term. When a corsair captain and his crew decided to eliminate a member of their brethren or a prisoner, at times the unfortunate person was forced to walk on a plank that extended from the side of the ship until they stepped off it and dropped into the sea or ocean, only to sink into the depths until they met Davy Jones and his locker and became his slave throughout eternity.
This impacted my life in a major way, as I knew it would, for I had made the decision to not rejoin a world wherein I made six figures per year. … It wouldn't take long before I felt the crunch on my wallet. Still, I refused to do an about-face and rejoin the self-imposed world of slave labor (again, Yahoo! and Oracle were not and never were a part of this equation when I wrote for them).
No longer a cold-hearted gun for hire, I was free. Free at last to spend all my time writing about what was important to me.
2013: Adios cowboy; no more talks
But things would happen. Suddenly, and without warning, I needed to pay half of an operation that I didn't know about until after the fact. By this time I knew that there would be no more talks. Some talks paid a lot of money and all expenses (and I certainly enjoyed my connection with these organizations) while many groups that I wanted to speak for paid peanuts (meaning that when I spoke for them my loss could be $1,000; no big deal in the past). There were talks I wanted to deliver in 2013 and I gave them regardless of how much it cost. Good times, times that I dearly miss to this day.
2013: Adios cowboy; no more research at a great archive
This year also marked the end of my research at the USC Warner Bros. Archives in Los Angeles, California. By this time I was in a position wherein I didn't need to return to the archives as I had enough primary source material to complete Errol & Olivia. Still, if you know me the research is always ongoing right up until publication (and usually lasts much longer as articles and talks follow). However, this ending was never permanent as I intend to do a lot more writing about Mr. Flynn. … More, I'm always big at going back and checking what I have for accuracy along with seeing if I might have missed anything.
2015: Adios cowboy; no more magazine articles
Another part of my life came to an end two years later. I never lost money here, and often I made additional fees based upon the photos/art/woodcuts I supplied and once in a while earned cash from my rough drafts of maps. This also included reselling photos, woodcuts, and my art to other publications. But the days of pushing these sales also came to a halt with me walking away from writing for magazines.
The reason was simple
Time. I needed time to complete two books.
A medical-legal thriller that I partnered with Bob Goodman, one of my physicians, who had a great premise that dipped into the depths of hell. I began the project as a consultant making good money, which quickly paid for the operation. I marked the hell out of his incomplete manuscript, provided edits and instructions on how to fix the text in detailed review copy, and in person during many meetings. My job completed I walked away from the intrusion and returned to the Sand Creek manuscript. My manuscript included finding primary source material while taking multiple types of people, their goals and biases, and merging a miasma of people and attitudes into a story that flowed easily between race and desire and selected actions by key players.
There was one problem, my Sand Creek manuscript suffered from the same malaise as the Goodman manuscript—it was all over the place with no focus, no sense of scope, and worse there was an endless listing of information that was useless in its current state. Honestly, both manuscripts were pieces of crap. … Then Bob Goodman presented a proposal to me that I was going to refuse—become his partner and write the book—until I realized that both manuscripts had the same defect that would destroy them. Simply put: If I could fix the thriller I would have a blueprint on how to fix the Sand Creek manuscript, which, unlike The Discovery that extended over two decades, was well over a century.
Talks, articles, & the USC Warner Bros. Archives are no longer on forced hiatus
Oh yeah, a time of joy is about to return to Tujunga House. I've begun to pitch two things that I love but had exiled to "Neverland" and will later this year or early next year I'll return to a magnificent archive. It will take time to resurrect my past from its long slumber but the process has begun.
Potential Talks
Washita Battlefield NHS (Cheyenne, Oklahoma)
Beginning a little over a year ago I introduced myself to Kevin Mohr, chief of interpretation and operations at the Washita Battlefield NHS. It would be the first of many talks and emails as we discussed the Sand Creek manuscript and Custer's attack on Black Kettle's Cheyenne village on the Washita River on 27nov1868 and its impact on the Cheyenne and Arapaho lifeways. I can't begin to tell you how open and friendly Kevin has been with his input to my needs (if you read the book you'll know what I'm talking about), but again "mums" the word on what you will see on these blogs before the book is published. I love teasing—just ask Pailin—but I'm not playing Mr. Tease here.
Some of you know a little and some of you know a lot of about the lead-up to that tragic November 27 day, what happened, and the aftermath. Some of you don't know anything about this time. Whichever camp you're in I've decided that I now want you to read the book with no more giveaways by me. I want you to experience it for the first time and not mumble as you turn pages that Kraft already told me all this.
Without giving too much away this portion of the book is of major importance to the Cheyennes and the Arapahos.
A Ned Wynkoop one-man show has had two performances at the Washita and I've given two talks there. Obviously I want to return to this special land. In my opinion it, along with the Sand Creek Massacre NHS (Eads, Colorado) and the Cheyenne-Dog Man-Lakota village site (35 miles west of the Fort Larned NHS, Larned, Kansas), are three key sites in Cheyenne history. There are certainly many others including the Little Bighorn Battlefield National Monument in Montana; the Battle of Summit Springs (near present-day Sterling, Colorado) where Cheyenne Dog Man Chief Tall Bull died on 11july1869; and the Battle of Beecher Island where the great Cheyenne war leader Roman Nose died on 17sept1868 (the last two sites I've not seen). … In May of this year Kevin opened the door to me returning to the Washita to present a talk combined with a book signing. I've already mentioned two ideas to him, and for the record I won't be talking about the battle. Hopefully we can make this happen in 2020.
Tomas Jaehn, University of New Mexico
Those of you who know about my writing/talking history may be familiar with Tomas.
What follows is repetitious, and that's okay for he's become a great friend over the years, and one I always enjoy discussing any subject in our worlds. He is responsible for creating the Louis Kraft Collection in 2002. I've spoken there twice. Believe it or not we both put a lot of effort into an attempt to bring the Ned Wynkoop one-man play to Santa Fe. I should talk about this sometime, but not here. … Tomas has since moved on to a cool position at the University of New Mexico in Albuquerque (see above). Well, I guess you know where this is going. We have been tentatively going back and forth about an LK talk at UNM. Although below it may appear that I'm being too picky on where I want to place a Sand Creek Massacre article, this isn't the case. The reason is simple: For me to show what happened on those two tragic days I need more words than most publications will allow and I don't what to shortchange this important subject. … If Tomas and I can agree on what I intend to say (and it will be explicit) along with a date that is good for both of us after the book is published this is a talk that I want to give in Albuquerque.
Articles
Stuart Rosebrook, True West Magazine editor
Stuart and I connected on LinkedIn in 2018 but I don't know if we've ever met. In May we shared a number of emails, which alerted him to the upcoming Sand Creek book publication and of my desire to again write for magazines, which caught his interest. Since then we've had a long talk on the phone to discuss this, writing for True West, and we weren't talking about a one-time article but continuing into the future. Stuart was immediately interested in an article on the Sand Creek Massacre but I told him no, that I needed a lot more words than the 1500 maximum word count for the magazine.
In the coming days we'll spend more time talking about LK story ideas that might be usable. Trust me, I have plenty of ideas bouncing around in my head. Most are related to the Sand Creek story, but there are others from the other side of my writing world that may grab his interest. Time will tell.
---
For the record I think that the best place for a Sand Creek Massacre feature might be in American History or MHQ (The Quarterly Journal of Military History). I've written for both and have had good experiences in the past. These pitches are in the works.
At right is the cover for the February 2008 issue of American History. The cover story was a comparison of Errol Flynn's George Armstrong Custer in the Warner Bros. 1941 film, They Died with Their Boots On, and the real George Armstrong Custer. To date I consider it the best article that I've ever written. In 2008 it became the best-selling issue of the magazine (I don't know if this is still true). For the record I campaigned to have Flynn also on the cover. This was one battle I lost, but ended up pleased with the art director's choice. Here's a few words to those of you interested in Mr. Flynn, Mr. Custer, or both of them, obtain the magazine (if possible) for the article may be of great interest to you.
Archives
Jonathon Auxier, USC Warner Bros. Archives
Beginning around 1995 the USC Warner Bros. Archives (Los Angeles, California) has been a mandatory destination of mine. I can't write another word without saying the following: I have researched in a lot of first class archives over the years but none of them have come close to comparing to the USC Warner Bros. Archives. Over this time many have helped me at this magnificent archive, including Randi Hockett (director), Haden Guest (Curator), Noelle Carter (Director), Sandra Joy Lee (Director; I can't remember her married name), and Jonathon Auxier (Curator). There were others but I can't remember their names.
Jonathon was day in, day out light years above all of the archivists and directors at the USC Warner Bros. Archives. He always had a positive attitude, was extremely knowledgable and this is an understatement (in an archive that was so large that it had to be overwhelming to everyone that worked there, not to mention the by-appointment only researchers), and even better for I can't tell you how many times he went the extra mile for me.
One example will show just how knowledgeable Jonathon was and how willing he was to go that extra mile. There was a key event in the Errol Flynn-Olivia de Havilland relationship during their time with Warner Bros. I knew it happened but couldn't find anything related to it at the archive. I explained exactly what I needed to Jonathon. He dug in and within days found the information I coveted. It became the spine for a talk I did about them perhaps 14 years ago or perhaps less as I'm not certain when Jonathan began working at the archives. No matter for the talk was a hit; so much so that I decided never to share this subject again. I immediately added the information to the Errol & Olivia manuscript. While polishing it I carelessly had a draft lying around when a Flynn friend who thought he knew a lot more than he actually did visited. He was a person who bought into whatever he read, proven or not (unless it was negative or debunked) and propagated clichés. While I was preparing dinner he saw it and began to thumb through the printed draft, but luckily asked what he was looking at. This brought me running to the rescue. I brushed it off as me playing with thoughts and words and nothing more. He bought what I said and the subject was closed. Over the years Jonathon has found other pieces of information that I needed but couldn't find.
Back in those days it used to take me on average of between 20 and 25 research days to get through one box that dealt with a particular film. The Adventures of Robin Hood (1938) had two boxes and it felt like forever to get through both boxes.
Jonathon has became a friend, mostly long distance although not many miles separate us, and this year we have made an effort to bring our friendship into the here and now. Good for me, and hopefully for him.
I will continue to use other archives for Flynn/de Havilland and Carson/Indians,
but I see no need to share them at this time.
Just so you know I'm singing an Alan Jackson song as I dance into my future.
Or will it be John Lennon, or Michael Parks, or Patsy Cline, or Rhiannon
Giddens, or Waylon Jennings, or Tex Ritter, or Laura Brannigan,
or John Anderson, or Willie Nelson, or Rihanna, or Elvis
Presley, or Rita Coolidge, or Kris Kristofferson,
or Norah Jones, or Bob Dylan,
or Yoko Ono?