Website & blogs © Louis Kraft 2013-2020
Contact Kraft at writerkraft@gmail.com or comment at the end of the blogs
---
My past is my future, and my future is mine.
It has arrived and it is time to share.
Music plays a big part in my life …
"From the Indian reservation to the governmental school … and
there are drums beyond the mountain … Indian drums that you can hear.
There are drums beyond the mountain … and they're getting mighty near. Lone
Pine and Sequoria, Handsome Lake and Sitting Bull, … Crazy Horse the
legend, those who bit off Custer's soul, … they are dead
but they are living with the great Geronimo. …"
"Drums" by P. La Farge and performed by Johnny Cash is dated (I originally enjoyed this song on his great album, "Bitter Tears," which is totally from the American Indian POV on 33 1/3 RPM but only have it now on CD w/o a copyright date). I like Johnny's music but I'm not his best fan. This said, his "Bitter Tears" album is extraordinary, and is easily near the top of my favorite 10 albums of all time (challenging John Lennon, Michael Parks, Alan Jackson, Patsy Cline, Norah Jones, Laura Branigan, and John Anderson for the leading spots).
If ever I sang in public—God forbid!—this is the song that would lead off my music set. A forthcoming blog will again deal with "the song remembers when," and you can bet that Cash's "Bitter Tears" album, along with more on Johnny's legacy, will be featured in my second blog that focuses on music.
This is me, music, my daily working life, and yes, music plays a big role in my daily life.
The LK writing future begins today
As of today my entire writing future is no longer as it once was. I love my past writing life, but now I'm walking into what will eventually become my second writing past. I know, this sentence tells you nothing. Well hell; I mean good, for we're making progress here.
You may think that you know me, but you don't. I share a lot, and perhaps more than most people that you know, but you don't know me. No one knows me completely, for I'm a very private person. This is totally based upon my past, for it has been one long string of tragedy, failures, and dreams that never happen. It's my life, and I love it for without it I wouldn't be me. I wouldn't be the LK living in at the end of 2019 with all my special memories and special people. Here I'm talking about my huge network of writer-historian-artistic friends as well as all the people I cherish worldwide, for without any of you I would have no life and no future.
The only way you will ever know me is if I dare to complete that memoir that I've talked about off and on over the years. If I dare to complete this project, I will approach it as I do with all of my nonfiction work—attempt to tell the truth wherever that documentation trail leads. I think that Errol Flynn did a magnificent job—with help—of telling the truth in My Wicked, Wicked Ways (Putnum,1959). Perhaps so, but if he had lived to see his book's publication he would have had his ass sued from here to kingdom come.
Lesson leaned: if you write a truthful memoir, make sure you are dead before it is published. For the record I have spent a good part of my Indian wars nonfiction life writing about two gentlemen who harbored the typical prejudices of life on the frontier (1860s & 1880s), but were able to realize that Cheyennes and Arapahos (1860s) and Apaches (1880s) were human beings. This, ladies and gentlemen, was, and is, a two-way street.
I can't begin to tell you how many Cheyennes, Arapahos, Apaches, and other American Indians did to accept the invading white man and co-exist peacefully with him. These two white men were Wynkoop and Charles B. Gatewood. Both attempted to write memoirs of their time with the Cheyenne and Arapahos (Wynkoop) and the Apaches (Gatewood). Neither completed a rough draft, and yet they—along with many others on the frontier whose memory changed with time (and remember that they didn't have all the documentation that I have at my fingertips) have been attacked, for their views don't coincide with modern-day historians whose tunnel vision is so extreme that they refuse to adjust their preconceived visions of their premises. … Memories change over time. Theirs did, mine does, and so it is with you.
All my work on Sand Creek and the Tragic End of a Lifeway is finished!
… And this is good.
This is a major statement, for this project has been a massive undertaking.
Honestly, I can't begin to tell how much I have cursed former University of Oklahoma Press editor-in-chief Chuck Rankin over the years, for not walking away when I told him I didn't want to write a book about the Cheyennes and Arapahos and the heinous attack on their Colorado Territory village on November 29, 1864—an attack that should have never happened for representatives of the U.S. military had guaranteed their safety if they camped there. This said, Chuck is a marvelous person, one I call friend, and since the beginning of this century he has been the key player behind my last three nonfiction Indian wars books. This is no small statement, and I can only wonder where my writing trail would have led if not for him.
Chuck led the way, and opened the door to my relationship with the University of Oklahoma Press; making me one lucky writer, for OU Press is the best publisher of Indian and Indian wars books in the world. Here I really need to talk about my ongoing association with the entire editorial, marketing, and production staff, as well as their copyeditors (which are outsourced). I had requested photos from current editor-in-chief Adam Kane and managing editor Steven Baker (who I have enjoyed working with since Ned Wynkoop and the Lonely Road from Sand Creek), but they're shy. So was Chuck, but he didn't learn to duck when I or Pailin pointed a camera or phone at him.
I have completed all of my work on Sand Creek and the Tragic End of a Lifeway, and Steven Baker is the key reason why. I can't begin to tell you how patient, understanding, and hard working he is. Steven has had my back during the entire production process (photos and art, three maps, two copyedits, two book proofs, the detailed index, and the dust jacket), and he has done everything to make the book as good as possible. The publication date is March 12, 2020; its preorder listing is on Amazon (and elsewhere), and it includes the dust jacket blurb that is right on target for what the book is about (to see it, click: Sand Creek and the Tragic End of a Lifeway on Amazon).
OUCH!!!!
The above sounds like it was a slam dunk. Not even close, for I can't remember the last day I had off until this Christmas, which I did take off—and it was special.
But, this book was special too …
At the beginning of the project I constantly struggled with my decision to sign the contract. And even more so as the days, weeks, months, and years flashed by with no end in sight. Eventually I grew into the project, accepted it, and looked forward to what the next day would bring. I needed to walk with as many of the participants in the lead up to the murder of people at Sand Creek in Colorado Territory in 1864 as possible. More important, I had to separate myself and attempt to view their words and actions in their point of view. I also had to place myself within the village on that fatal day. I had to see the scramble to survive, the sexual butchery, and more—the aftermath that led to end of the Cheyenne and Arapahos's freedom, religion, language, and lifeway. Little more than prisoners of war they would do what the white man dictated, or face the consequences.
All my books live on in my life, but Sand Creek and the Tragic End of a Lifeway has become the centerpiece of my writing life. If I became homeless and could only have one piece from my writing life with me, it would be this book.
My work on Sand Creek and the Tragic End of a Lifeway is over
But it isn't, for I never stop learning and there's always add-on work (alas, there is another piece of my life that will impact my future).
Some of what is coming:
An ongoing relationship with Editor Stuart Rosebrook and True West magazine in 2020 and beyond. It will include articles related to the Sand Creek story, as well as articles dealing with my writing past and hopefully future.

This began in earnest this December when I delivered the first article on Cheyenne chief Black Kettle.

Upcoming talks with Gordon Yellowman, and LK solo.

At the moment, Gordon and I have a confirmed talk at the Washita Battlefield National Historic Site in Cheyenne, Oklahoma, on November 8, 2020. I will talk about Cheyenne chief Black Kettle. I'll also talk about the attack on the Sand Creek village while the Called Out People flee for their lives at the University of New Mexico in October.

A massive delivery to the Louis Kraft Collection at the Chávez History Library, Museum of New Mexico, Santa Fe. It is mandatory for I cite it often in Sand Creek and the Tragic End of a Lifeway. A lot of work has already been put into preparing for this delivery, but I'm not close to selecting everything that will be making the trip.
It will include my writing, research, correspondence, photos, and art from my writing since the last delivery, plus information from my past that I had not yet provided.
It will also include writing from my past that I completed but never sold such as proposals and manuscripts, as well as artifacts that I own, but now believe belong in a museum for everyone to view and experience (and not be kept in a private collection).

We're talking about Indian wars, and the Golden Age of the Cinema artifacts.

Finally, I may include research, correspondence, and drafts from projects that I haven't completed, and perhaps now never will.
Let's take another music break
There's a lot of music in my life. Much of it's world music from the Andes to Spain, Cuba, Mexico, China, Thailand, and beyond—and this includes the massive amount wonderful American Indian instrumentals and vocals. Of course there's soundtracks, some classical, and you can bet your bottom dollar on rock 'n roll and country and a little bit of blues.
Deportee (Plane Wreck at Los Gatos)                           
The crops are all in and the peaches are rotten,
The oranges are packed in the creosote dumps.
They're flyin' them back to the Mexican border,
To save all their money then wade back again.
My father's own father, he waded that river:
Others before him had done just the same.
They died in the hills and they died in the valleys;
Some went to heaven without any name.
Four singers have stood out: Waylon Jennings, Willie Nelson, Johnny Cash, and Kris Kristofferson. Instead of beginning as a member of a band (such as John Lennon with the Beatles), they formed a band long after they attained solo success as The Highwaymen. I luckily saw Waylon perform live at the famed Palomino Club in North Hollywood when he was young, and Willie when he was old, but not ancient, at the Hollywood Bowl. Alas, I never saw Johnny or Kris perform, and worse never saw The Highwaymen live.
Goodbye to my Juan, goodbye Rosalita;
Adios mi amigos; Jesus y Maria.
You won't have a name when you ride the big airplane.
All they will call you, will be: "Deportee."
Some of us are illegal and others not wanted;
Our work contract's out and we have to move on.
Six hundred miles to the Mexican border.
They chase us like rustlers, like outlaws, like thieves.
Obviously "Deportee (Plane Wreck at Los Gatos)" is one of my favorite songs. Many artists have sung it, but my favorite version is by The Highwaymen with Johnny taking the lead.
Goodbye to my Juan, goodbye Rosalita;
Adios mi amigos; Jesus y Maria.
You won't have a name when you ride the big airplane.
All they will call you, will be: "Deportee."
Woody Guthrie wrote the song in response to a plane crash in California on January 28, 1948 (music by Martin Hoffman), in which racist newspaper and radio reporting of the tragic event refused to name the deceased and grouped all of them as "deportees."
The sky plane caught fire over Los Gatos canyon;
A fireball of thunder, it shook all the hills.
Who are all of these dear friends, scattered like dry leaves?
The radio said they were just "Deportees."
Goodbye to my Juan, goodbye Rosalita;
Adios mi amigos; Jesus y Maria.
You won't have a name when you ride the big airplane.
All they will call you, will be: "Deportee."
This is one of the saddest songs I have ever listened to, and it affects me every time I hear it, for it reminds me of how callus, inhuman, racist, and hateful our homeland has become since that dark flash of time in 1948 that is now long gone.
Woody Guthrie (right) was a singer-songwriter before his time. He documented what he saw and what disturbed him. This is something that all of us should do—document our world, current and past. … I try to do this. 
One other small impact to what's coming
Something is going down in my life, and I don't know what it is. Actually, no one does. What follows is optimistic. Heck, I'm always optimistic. I had been enjoying myself by stating that I needed to live to 130 to complete all of my projects, and that was probably a true statement. But times have changed, and that has led to a revised and much-shortened blog. There are two books that I have a realistic chance of completing first or polished drafts of in 2020. There are two follow-up manuscripts to these books that require more research, and that will begin in 2020. … My future is out there, and it will impact what I just stated.
Errol Flynn is the perfect lead-in to my writing future
Why? The answer is simple: he is the leading player in my writing future. This said, I don't want to mislead you for as in the past I mix and match all my work. Flynn and Olivia de Havilland have had a presence in my talks and published work since the mid-1990s. It hasn't been large, but it exists. Come 2020, everything changes in my priorities. This doesn't mean that I'm turning my back on the Sand Creek saga, or the major players (such as Black Kettle, Little Raven, Ned Wynkoop, and so on) for I'm not. It also doesn't mean that I'm walking away from the Indian wars, for I'm not.
Why Mr. Flynn?
Simply put, I had set out to write a trilogy about his life. This grew to four with two partnered and the elimination of my third proposed solo manuscript. The year 2019 has been unlike any I've experienced in the past. Something happened, and it is impacting my life.
My brain functions; it keeps me alive, and I love it. I'm one lucky cowboy.
But you know me—I need to get personal before the main event
Let's begin with that there is a lot going on in my life that you aren't privy to. Most likely you'll never be privy due to my being obscure (and this is an understatement). Bottom line, I'm a tease. It's fun in the here and now, but a drag when long distance (and again, an understatement). It's just me; sorry.
Times are tough, but it's a lot more. This needs to be broken into subheadings (but they don't deal with the understatements), for all of them are major to me. Let's start with the land I love.
SoCal and Los Angeles
Ladies and gents I could write a book about my homeland. It would be nonfiction, and I would both praise and damn it. I'm going to start with a few positives that are out of this world:
Los Angeles is the melting pot of the USA

More people of different race and more languages are spoken in Los Angeles than any other city in the USA

The culture at my fingertips is astronomical
The diversity of restaurants are beyond belief (ditto the grocery stores)
Our weather is to dream for temperature wise
There are major archives that host subjects that have been and are key to my writing past and future
That's right, I live in a writer's wonderland (some might say, "a winter wonderland"). Go ahead and chuckle, but you can't deny that this is why some of you rip LA time and again—jealousy.
The bad—that is, the very bad
Let's begin this with I was accused of being a traitor for considering leaving the USA a year or two back. It ended a friendship. I'm good with this. Nothing more need be said, other than my exploration for where I and my loved ones could perhaps continue to live without joining the living dead that walk the streets of LA is constantly with me.
Know that I will never become a homeless person.
I'm not just talking about LA and SoCal but all of California. We now have four designations of people:
The rich class
The middle class, many of whom are now approaching the lower class
The lower class, many of whom are now approaching the homeless class
The homeless class
I'm not going to say much about the homeless class, other than some (many more than "some") have jobs, but they can no longer afford to own a home or to rent lodging.
LA Times columnist Steve Lopez keeps me updated
Steve (the dot and line image of him–left–reminds me of the woodcuts that I own and use from the 19th century in my writing, and I think that it's terrific, and The Times prints it with all of his articles). He is one of numerous great columnists that the The Times employs, and let me tell you that they are worth the cost of the paper (Front page; plus California, Business, and Calendar sections), and without knowing, all of them must have staffs that supply much needed information (I need to feature them in future blogs, for their work is exceptional). This said, Steve walks the streets of Los Angeles, and he knows many of the people he writes about personally. He is a gentleman that I would like to know and hang out with. (art of Lopez © Los Angeles Times)
On 15dec2019 Steve continued his ongoing expose on the homeless situation in Los Angeles. It is both outrageous and heartbreaking. Some of Steve's words and facts are all that need be said (they are from his front page column).
Steve began his December 15 column with: "Sometimes I wish I hadn't seen the body up close, or the small pool of blood that dribbled out of the man's mouth and onto a West Los Angeles sidewalk. I also wish I hadn't seen the dead man's open, empty eyes when he was turned over for examination by the coroner investigator."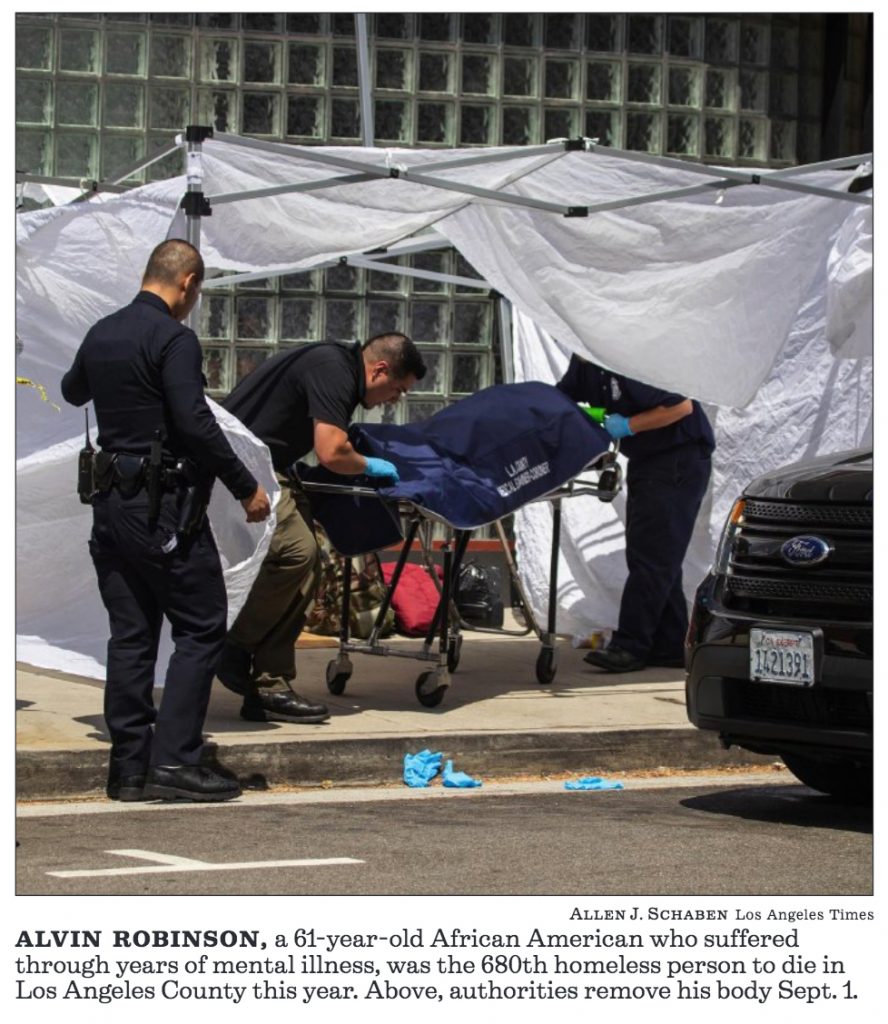 He was talking about a 61-year old man he knew, a married man, and father of five, who had some mental problems. This man, who shouldn't be dismissed as little more than nobodies as the "deportees" were in Woody Guthrie's magnificent song (above), lived. He walked the streets of LA, he was a human being, and he should not have had his end happen this way.
Several years back the residents of Los Angeles voted to increase taxes to aid and home the homeless. Not much has happened, but as Steve shockingly reports: Alvin Robinson was the 680th homeless death on the streets of LA this year (two more would die on the day of his death). As of his column of the fifteenth, 962 homeless people have died in Los Angeles County. Going back to 2013, the death count is over 5,620. These statistics are not acceptable. Los Angeles city and county needs to do something, or this epidemic is going to explode into a living nightmare of hell.
The good—that is, the very good (I'm being snarky)
It seems like the rest of the USA bitches that SoCal has no seasons. We have seasons, but they aren't as traumatic as a good portion of the rest of our homeland. We don't have snow and freezing temperatures six months out of the year. Let me tell you how much I hear friends—good friends—who complain about a snowstorm in April but who hate SoCal for our weather. The weather varies depending upon where we live, and now scientists in a recent report have guaranteed what all of us have experienced during the last three or four years is here to stay. That is raging firestorms, drought, freezing and snowbound winters, tornados, and hurricanes—all of which are pounding the hell out of Mother Earth.
House insurance is tripling in Los Angeles County in 2020;
making me one step closer to being a traitor to my country.
That's right, I'm never going to get over that F—ing accusation.
I guess the above isn't very good, but since all of us want a future I can say only one thing: If this is our future it is all we have (unless we change it). I wish it wasn't so, but at the same time I'm thrilled to be alive. For me, this is "very good."
I would be remiss if I didn't mention the dark side
The 2019 fire season was again hell in SoCal.
The recent rain storms perhaps saved Santa Barbara, and certainly one of the famed Spanish missions that range across the state. The Ronald Reagan Presidential Library in Simi Valley, west of the San Fernando Valley, where I live, suffered $550 million in damage this summer but the buildings luckily survived. As always the SFV was attacked from various directions and twice fires blazed within five miles of my house (the northern side of the valley and Warner Bros. on the south side) and on another occasion within six miles.
This last was the (you choose the name) the Sepulveda Pass or the 405 freeway or the Getty Museum fire. The 405 separates the SFV from the Westside of Los Angeles (Westwood, UCLA, Brentwood, Beverly Hills, Santa Monica, Venice).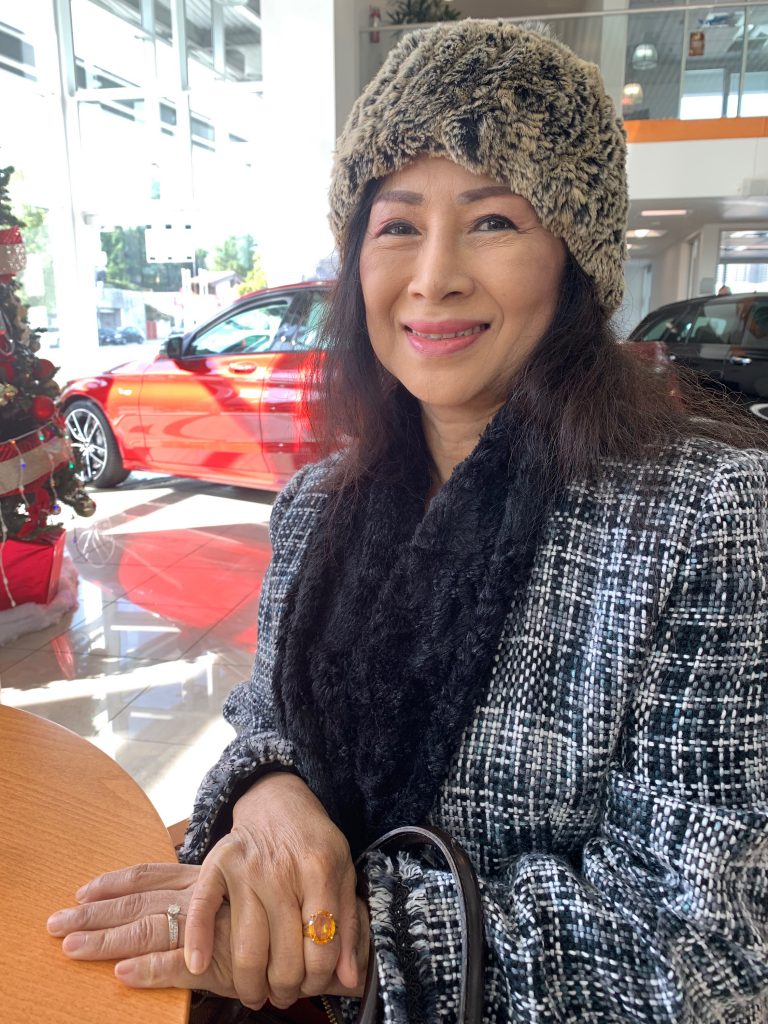 I took this image (right) of my beautiful wife on 11Dec2019 when we drank cups of good coffee at the Mercedes-Benz of Encino dealership. This is a first-class establishment, and we enjoy our time there. (photo by LK and © Pailin Subanna-Kraft & Louis Kraft 2019)
Pailin is a contractor and all of her work is on the Westside. On 28oct2019, when the blaze began (and all the southbound lanes in the Sepulveda Pass and the 405 freeway shut down), she spent over three and a half hours trying to get out of the valley and failed. If a major fire invades the SFV (and the threat has been constant the last three years), which has 1.7+ million residents (this is a .4 increase from the previous number of people I had reported), let me tell you hundreds of thousands of people will not escape the inferno.
The Books
Errol & Olivia
This book has been in the works for a long time. All I can say here is, bless all of my Errol Flynn and Olivia de Havilland fans for your patience. More important, your time has arrived, and that is that E&O will be my next published nonfiction book.* However you feel about this, it is at least a thousand times more important to me.
* I currently have 60,000+ words (some polished) and plan on a total of 125,000 words.
There's still more writing, more polishing, and more research (research never ends). Hopefully when the book is published you will like it. I can promise you one thing, and that is that this book will not be like any book you have ever read about Errol Flynn or Olivia de Havilland in the past.
Although I have shared this, the book will deal with their life and times during the eight films they made together at Warner Bros. between 1935 and 1941. I prefer to use art of them on the book cover, but if I can't obtain the rights to use a painting or illustration that includes both of them that is appropriate for the dust jacket, I will use a photo (this will be easy to do, for I already know which series of images I'm going to pull from, but if this is the case I won't share it until the cover design is final). One thing is certain, one of these photos from this portion of their time together will be in the book, for there are numerous images that are magnificent.
As with all my Indian wars nonfiction, this book will contain notes that point the reader to the location of the primary source research. There is a reason for this, and it is twofold. It allows anyone—a writer-historian or anyone else who has an interest in EF & OdeH—to view the material. This information should not be secretive, nor should it be hidden from the public.
On the dark side, way too often "would-be" historians create
their own facts and quotations while citing obscure historic documentation
that they think will not be viewed for no one has it or can obtain it. Vagueness
is not golden. You do not want to know my view of these slimeballs.
What has been printed is way too often in error
Hey folks, there are a lot of errors in print. Some are by writers who believed what they found in primary documentation or from books whose authors they trusted. I certainly am one of these writers. In the past I used quotes that were cited from documents in the National Archives (the cited material and how it was listed was pristine, but I didn't have the original material to check and trusted the author (whose book I still have and like a lot). I'm a little ahead of myself here, but this is okay.
In the mid-1990s I had written a Kit Carson article for either Arizona Highways or Persimmon Hill. The publication used peer reviewers who were subject-matter experts (this is how it should always be), and my article was rejected as the historical quotes were incorrect. I compared the quotes I submitted in the article with the quoted material from the book (mentioned above) and the words I submitted were spot-on. I had not erred, but I now knew that the author of the book or one of his editors blind edited the quotations (and left the reader in the dark). This was a lesson I never forgot. If I change text—let's say from a lower case letter to upper case or rewrite a word or two—they are always in brackets. Copyeditors often silently delete my brackets. They don't realize that during copyedits I read each and every word and check everything against what I submitted. When required I re-add the brackets, and in each instance tell them exactly why I did this, and that they are not going to delete the brackets.
In the past I have missed some blind edits and when I see them (often years later)
I scream at the heavens (and my language isn't printable here).
There are other errors that often see print. Often they are created by lazy writers who do little research, but others are created by wannabe historians to sell books. Their false facts are heinous, and I'm being kind here. Unfortunately, there are way too many of these cretins that create fiction—that is facts and quotes—while falsifying obscure sources. I chuckle over this, for often I have their "obscure sources" in-house and you can take it to the bank that I check each and every note in their travesties that cites documentation that I have.
I'm certain that their point-of-view is that you can't be arrested and put on trial for defaming the dead in the USA, which is true. Let's look at this another way: these wannabe's think that defaming the dead is their key to mega bucks. Snarky Kraft has a dark view of writers who defame the dead while creating false histories that are based upon their fallacious—that is their intended and deceptive—lies.
Worse, some of these deceptions are being reproduced in articles, books, and online. Hell, if it has been printed, it must be true. Nothing could be farther from the truth. I have been pinged for pointing out egregious errors in my Indian wars writing, and if it happens again—so be it.
How can errors be corrected if they are ignored?
How I approach documenting facts
Simple: by dealing with them when I am aware of them. Alas, often changes happen after I have seen whatever version of the edits that I will see. When this happens … Well, hell, you do not want to hear my view, for it isn't printable. Unfortunately, my vocabulary is at times X-rated (those of you who know me, mostly consider me a kind-hearted soul who wouldn't hurt an insect). The truth be known, ask my first wife, my daughter, Cindy Tengan, Diane Moon, Pailin, or others who know me intimately, and they'll tell you that when upset LK is someone to avoid.
This is not me being kind to me, for way too often in the past I found it difficult to control my outrage.
Here's an example, but years have passed and I have mellowed with time. I needed to buy a new landline phone because mine had broken. "How?" the sales person wanted to know. "It just broke," I replied. My then long-time lady friend Diane Moon was with me, and she spoke up. "He threw the phone at the wall and bashed it to pieces."
As I just said, I have mellowed with time.
It's long over a decade since I've killed a phone.
If I ever complete that memoir, and it is printed, I hope that you won't faint. Sorry, but that's just part of life. The truth is always much better than fiction when writing about people's lives and the events in them. As a nonfiction writer, I have a responsibility to tell the truth as I have discovered it.
**********
Errol & Olivia will go in directions you may not expect,
but will add to their working time together, and will hopefully present
more insight into their professional and personal lives.
Book covers are of major importance …
… and I have played a major role in every one of mine since Upton and Sons published Custer and the Cheyenne in 1995. It's a non-brainer, for a good cover can increase book sales.
I want art of Mr. Flynn and Miss de Havilland on the cover of Errol & Olivia. To date I only have a cover from a long-dead magazine that I like. This said, there is a lot of great illustration art on film posters from days long gone. American, French, Spanish, German (some of the German art of the late 1940s is to die for), … This is perhaps a good way to go, but it will include two must-needed things (other than negotiating with the copyright owner, and that is: 1) Can the poster art be altered, and 2) What is the use fee?
Let's discuss the poster art at the right. To make it work as a dust jacket cover is simple: 1) Remove the cover text within the shield and replace it with the book title and author credit, and 2) Remove the acting credits at the bottom right of the poster (Errol and Olivia's credits must remain at the upper left—to balance the image while informing potential readers what the book is about).
Decisions, decisions, decisions.
I have time, but not much for I'm going to fly
through the completion of the first draft of Errol & Olivia.
But what if I can't obtain the rights to use a painting or illustration that includes both of Errol and Olivia that is appropriate for a dust jacket? No problem, for I will use a photo from a very key point in their time together. The photos from this time are absolutely magnificent, but I've already said this above.
A first draft of Errol & Olivia in 2020 … Oops! How about 2021?
Oh yeah, this is going to happen. More important, ladies and gents, this isn't a wild LK dream. But alas, this first draft of the manuscript will not be by the end of 2020—it is now by the end of 2021. The reason is simple; the year 2020 is going to busy and at this moment my goal is to deliver all I've promised through next fall, some of which is mentioned above. This said, with the publication of Sand Creek and the Tragic End of a Lifeway in spring 2020, the demands upon my writing life is going to expand. Working seven days a week has been my past and it certainly is going to be in my future. It includes stolen time with Pailin and my family. Although trips are work, they are also R&R, and they give me additional time with Pailin and my daughter—they are special time for me, and I love it.
But this isn't the end of Mr. Flynn
During the year 2020 I will officially begin my research on a second nonfiction book on him. Some of it is already in house, but there is much to do. I'm certain that I've discussed the project in the past. If so, shame on me, for it should be a surprise. As with all my biographical efforts I prefer to focus on a piece of time, and again this will be the case. For those of you who have interest in this man, who was not only a good actor and writer, but perhaps the most un-racial person I've ever studied and written about, it will be worth the wait.
Another piece to LK's writing future is also in the here and now
Originally it was a genre novel that dealt with race relations during the 1863-1864 Navajo campaign. As always in my fiction, the story was character-driven and dealt with the human element.
It had been contracted in the early 1990s, but then the contract was broken. If this hadn't had happened I would have never become a writer of nonfiction Indian wars books.
Never.
This is/was probably the luckiest unplanned change in my writing life, and I am forever grateful to Dick Upton of Upton and Sons, Publishers, for he had been pitching me to write a nonfiction book on George Armstrong Custer. I had been turning him down, but after the novel when belly up I called Dick. Probably one of the most important phone calls I ever made. I only have a few words to say about this—Bless you Dick, and your wonderful wife Frankie, for without you I would not have enjoyed the last 26 years of my writing life. Click the link to see my thoughts on Dick and Frankie when Custer and the Cheyenne won the Jay D. Smith award in 2011.
Navajo Blood
I've always liked my title for the contracted novel mentioned above. After the polished draft was accepted, the publisher (which was unfortunately nearing the end of life), dropped their western line. This story, which I've always liked, was exiled to a filing cabinet until this year. Like The Final Showdown (Walker and Company, 1992), it deals with real historical events and people who lived through them, and again has major fictional characters.
Kit Carson meeting with General James Carleton (left in art). For my purposes it is before the 1863-64 Navajo campaign and Carson is just receiving his orders. This was a task he didn't want, and he has been damned for it, but by people who don't know who he was or what he attempted to do to end a war he wanted no part of. For all the racist crap about Carson, consider this: he spoke seven languages and had three wives (Arapaho, Cheyenne, and Spanish). A racist? I don't think so. This image is a detail from a painting on display at the Bosque Redondo Memorial (Fort Summer, N.Mex.). If you have never been there, I highly recommend it.
Mixing and matching of real and fictional players is something I like doing. In this case we're talking about Kit Carson, his wife Josefa, and their children, as well as General James Carleton, and officers under Carson's command during the 1863-1864 Navajo campaign, and major Navajo chiefs Manuelito and Barboncito. There are three leading players in the story: an aging fictional Navajo warrior (Pedro Hueros), his granddaughter (Margarita), and Carson. These three people converge on each other, and once they meet their paths lead toward tragedy—albeit not what you expect. It is a story about human beings forced into times that they want no part of, but must experience.
Tucson, June 2019, was R&R while opening doors to my writing future.
I've well-documented my meeting with Stuart Rosebrook and True West magazine,
but I have ignored a chance meeting while leaving the Western Writers of
America (WWA) convention's hotel with Cherry Wiener (my agent
for The Final Showdown, and a lady that I have always had a
good relationship with since our parting a long time gone).
While in Tucson this past June I brought a number of the chapters the Navajo Blood manuscript with me to mark them up with how I wanted to update it—mainly 1) More character development, 2) More culture, 3) More dialogue, 4) More action, and 5) Writing the story as I do now, while not forgetting how I wrote it in the past. This is all doable due to adding an extra 35,000 words to the genre novel's 65,000-word draft and turning it into an historical novel. This will begin in earnest hopefully in 2021, which makes this endeavor a sister piece to E&O. I don't want to say that they're joined at the hip, but they are the two major projects in my current life.
The plot is detailed and moves between Carson's dilemma, that is Carleton's demand to end the Diné's—as the Navajos call themselves—freedom, and Pedro and Margarita's struggle to survive at this time of woe. As the story progresses you'll become aware that the final confrontation between the Diné and Carson's army will take place at Canyon de Chelly, but this isn't the ending. The story's climax takes place at Fort Canby, after the Navajos have begun to surrender by the hundreds. It brings tears to my eyes every time I review it, but I can't share this. The book has to be published for you to experience what happened at Fort Canby. Know that I'm cocky SOB, and have full confidence in this story seeing print.
Untitled Kit Carson/Indian nonfiction book
The announcements in this blog may have been expected, or perhaps not. But now I've reached my nonfiction Indian wars future—and Kit Carson and his relationship with Indians is it. Over the last few decades he has garnered a lot of bad press. I disagree with all of it. … All of it! Anyone who explores this un-racial man's life will agree with me.
I have work to do—that is research—but it will happen, and his relationship with American Indians will dominate this portion of my writing future. I can't begin to tell you how thrilled I am to really begin walking with him and the Indians in his life.
This nonfiction book idea has been with me for a long time, but I still need more primary source material to make it become reality. The goal is to complete this research in 2021 (I know, the next two years are a mouthful, but I'm always ambitious). At this moment all I can tell you is that the research will dictate the scope of the manuscript. I know what I'd like it to be, I know what I think it should be, but I must have the research to confirm what happened. … And some of it is so obscure that at this time I'm in the dark.
As soon as I have the research in-house and have a good idea of what the book will be I'll talk with OU Press. At the moment there is a little uncertainty of my future with them, for the two terrific editors-in-chief that I have dealt with (Chuck Rankin and Adam Kane) will be gone. Still, OU Press is "the" publisher of American Indians and American Indian wars books in the world. They are my first choice. At the same time I know that other nonfiction publishers will jump after hearing the story idea. As the X-Files used to proclaim: "The future is out there."
The above is all that is a comin' at this time
I have hinted at the reason for this above
(and that a lot of future writing has been purged from this blog).
In June 2019 I enjoyed a work and R&R trip to Tucson, Arizona, a city I fell in love with in the 1970s. I can't begin to tell you how much time I've spent there, but it is easily over six months throughout the years. … This past June something happened. I don't know what, and neither do any of my doctors or their tests. Whatever happened, the attacks are constant and happen twice a month. Shots and drugs stop the fire, but nothing has ended it. This month I filled out the paperwork, which will hopefully garner me more paperwork to see if I can—that is will my drug insurance accept the extremely high cost, and more important that I can afford it (I know this answer now, and it is no). This drug, which may put an end to this misery, is going to remain unnamed (at least now). The year 2019 has been pure hell with drug and medical costs. My drug cost is well over $4,000. Pailin's and my entire health care cost for 2019 is over $18,000, and this doesn't include $6,000 USA dollars spent outside the country. …
During one of the episodes I chose not to initiate another
round of shots and drugs and the fire did not go away.
The impact has already begun …
… and it is ongoing. But I do believe that I will see Sand Creek and the Tragic End of a Lifeway published. I want to hold the book in my hand. This is an extreme statement and hopefully little more than nervousness on my part. Earlier this fall I saw an allergist twice. He performed over 260 needle tests during my two visits three weeks apart. After the second, he said: "I don't know what's wrong, but what you have I have never seen before. I can't help you. Good luck."
Just seven months ago i could walk 14 miles a week (and did). Now walking a quarter mile is extreme foolishness. I'm not going to go into any details but a lot of normal physical pieces of daily life are involved. Do not ask, for all I intend to share will be below.
In November I began to bleed internally. On December 23, when I presented my condition to the doctor who had been handling my case in the hope of obtaining yet another shot and drugs so that I would look presentable on Christmas, it ended in a "no." The reason was simple: there had been no improvement over the months and now my condition had begun to change in a way he couldn't deal with medically.
That December 23 initiated the beginning of my future, and one that is darker than before. I walked into another of my doctor's offices, one who has played a big part in my health for decades. He knew what was going on, but wasn't involved, and immediately began a series of tests. But like when I was cracking my skull open a few years back, something that led directly to an emergency surgery (and not just stapling my head back together), but giving me a new life in August 2017. These tests were an eye opener. Mainly my red blood count was extremely low, my balance non-existent, and my breathing belly-up (last May I passed all my breathing tests with flying colors, but on December 23 I failed every breathing test I took).
The testing is ongoing, and I'm prepared for each and every step of the process. I'm always proactive with my physicians. … My last medical appointment this year was on December 27. I walked into the office with a five-page document, which listed the medications and my changing physical status since last I saw him in early fall. We then discussed the reason for my visit, which was for a series of tests that we perform three to four times each year (and they aren't related to my current situation). While we went through the process he raised the idea of my current physician in charge perhaps sending me to either the USC or the UCLA medical school to see if they have done any testing similar to what I'm experiencing.*
* Good friend and George Armstrong Custer and Little Bighorn battle expert and author Fred Wagner recently provided me with another lead that I intend to look into—that perhaps a parasite is the culprit.
After we completed my last test (an ultrasound; my third last week), he asked about my writing. I told him that I completed the detailed Sand Creek index in November, my reviews of the two book proofs in December, as well as signing off on the dust jacket, while adding that I had submitted my first article to True West on December 22. He shook his head and smiled. "I can't believe that you did all of that in your condition," he said. "My brain functions," I replied, "and I love what I do." He smiled again. "Good for you."
Oh yeah, I've always been one lucky cowboy.
What is the future?
I don't know what's in front of me, other than I'll cherish each and every moment of it. One thing is certain, and that is finances and health will be key in the upcoming years. I'm looking forward to whatever it will be.
If it is a race against time, I'll have everything that I want—
my small family, my friends, my writing, and myself.