This novel that deals with race relations in 1867 Kansas at the time of the Medicine Lodge peace council was my introduction to book publishing. I had a great editor, Jackie Johnson, and a great entry into a publishing house that I thought would be long-lasting. Glad I didn't hold my breath. I quickly learned that one sale and a verbal contract for a follow-up book amounts to little when a publisher decides to cut back on a genre line. This setback, although devastating at the time, proved fortuitous for me, as I had already been writing nonfiction articles for a number of years. I wanted to sue, the agent talked me out of it—to protect her. We parted company, and I decided to move away from fiction. A move I've never regretted. Not true, … I do miss the freedom of fiction and am currently in the process of returning to it.
Text from the front dust jacket flap
Ned Morgan kept to himself, feeling out of place with most whites because he was considered an Indian sympathizer, yet never completely at ease among the Indian tribes. For the last three years, he had been content to go his own way. When circumstances forced him to rescue Elsa Wells from an Indian attack he had to confront two problems.
His actions drove a wedge between the Cheyenne[s] and him because he had had to kill two Cheyenne warriors to save the woman. And being around Elsa made him achingly aware of how lonely the past three years had been.
If he could go to the peace council convening soon at Medicine Lodge, he might be able to help Black Kettle and Colonel Edward Wynkoop reach an agreement that would bring a lasting end to bloodshed. He also hoped that by contributing he might be able to finally be at peace with himself. But before he could worry about doing some good at the peace council he had to find a way to stay alive that long—the Wolf's Head was determined to kill Ned for spoiling his raid on the Wells homestead.
A featured interview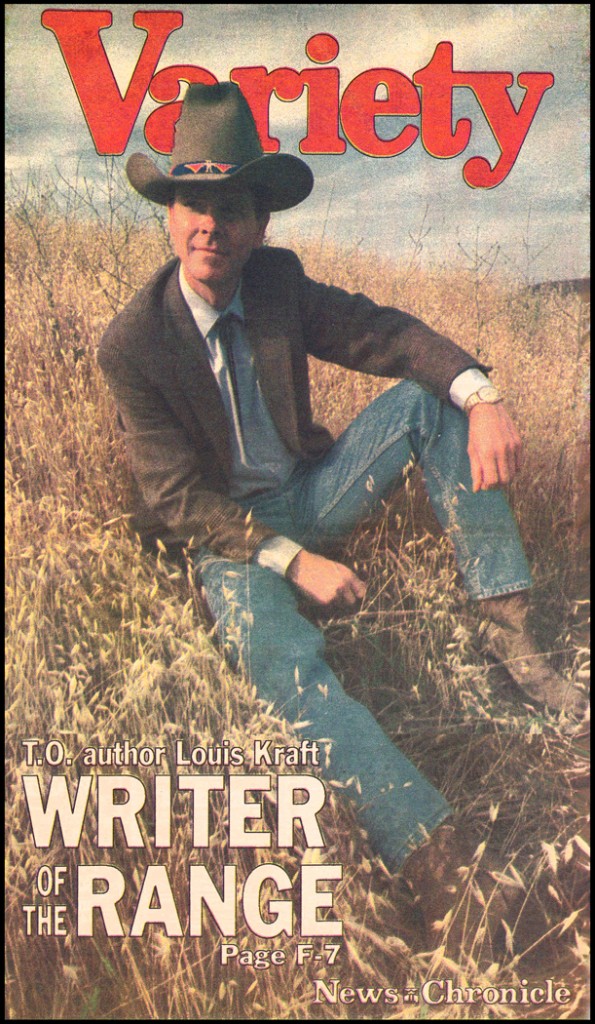 The publicity department from Walker called me and said that the Thousand Oaks News-Chronicle (Ventura County, Ca.) wanted to interview me. "Great!" I said. "You don't understand," they countered. "You need to live in Ventura County." "I lived there when I wrote the book." "But you don't now." "No. My ex-wife owns the house now. I'm living in LA Country now." "That's a problem," they said. "You need to live in Ventura County for them to do the interview." "I did two weeks ago. That doesn't count?"
If you know me, you know that I don't walk away from interviews.
At the time I was writing for a software company in the South Bay (Los Angeles County). "Give them my office phone number." "They want your home number." "Can't have it 'cause I don't live there anymore." "They want it." I thought quickly, very quickly. "I have a minimum of an hour and a half drive to the office from Thousand Oaks and a two hour drive home if there are no traffic problems. Do the math … not counting overtime that's over 12 hours right there." And this was true. Walker advertising pitched it, and the News-Chronicle bought it and called to interview me in the South Bay. Actually the interview took two phone calls. At the end of the interview the reporter asked to set up a photo shoot at my Thousand Oaks house. We set a weekend date. As soon as he hung up I called my ex-wife and told her about the upcoming publicity piece and asked if I could have some photos taken at the house. She was good with this, as long as they were taken outside.
At the appointed time I met the photographer outside the house and led him into the courtyard and told him I wanted to shoot there. He shot some images and suggested we go inside. I said, "no," that I knew of a hill not too far away that would be perfect to sell western fiction. He agreed to see it, liked it, and I survived the small white lie that I still lived in Thousand Oaks.
The Thousand Oaks News-Chronicle's 'Variety" section was similar to the Los Angeles Times' "Calendar" section in the 1990s (that is, similar to the tabloid format seen in grocery stores today), and I got lucky and received most of the front page with a full page interview.
I had played the game, but if it wasn't for my ex-wife's kindness the gambit would have been dead in the water before the game was on. I'm grateful to her for this.
Rear dust jacket introduction to a scene from the book

Ned Morgan was haunted by memories of events surrounding the Sand Creek massacre three years ago. He had refused to take part and was drummed out of the army. Since then he had been branded an Indian lover by whites and was mistrusted by Indians. Now, in order to rescue a white woman from Indian raiders, Ned had had to kill two of her attackers. His actions could threaten the peace council convening at Medicine Lodge in a few days. At any rate, the Wolf's Head was bent on revenge against Ned for interfering in the raiding party.
**********
"Sit," the Wolf's Head demanded in Cheyenne….Ned obeyed, sitting cross-legged on the exposed earth. Stone Forehead sat to the Wolf Head's right. Black Kettle was at the opposite end of the circle, at Ned's left. Five others were present…. [Ned] had never heard of a prisoner about to die attending a powwow wherein his life hung in the balance. A wave of sweat flowed to Ned's hairline and drips began to run down the sides of his face."I am not an enemy to the People," he began…. "At one time I was…. But that was before I met the Cheyenne[s] and came to know them…." "This vulture of a white man was at Sand Creek," the Wolf's Head snarled, ignoring Ned's attempt to interrupt. "I wonder how many girls he hacked to ribbons and then deflowered after they were dead?" "I did not kill." Ned struggled with the Cheyenne words. "I killed no one at Sand Creek." "This man's tongue is golden," Bird Who Fights With A Claw said sarcastically. "I suppose next he will tell us he did not kill Man Who Sniffs The Wind and Cow Killer…." He looked directly at Ned. "Well, white man, I am waiting for your answer." Ned looked at Black Kettle. "I did not understand all his words," he signed as he nodded at Bird Who Fights With A Claw. The old chief slowly signed what the warrior had said. Ned nodded that he understood. This was the crux of the situation. How to convince the Cheyenne[s] he was their brother when they had seen him kill.
Comment
"Your characterization was excellent and you sure had me fooled for I just knew that Morgan would wind up with that woman. So keep up the outstanding work, Louis! That was a shockingly good first novel. A standout."
— Spur-award winning western novelist Gary McCarthy (1992)
Also available from
AbeBooks
Barnes & Noble