Website & blogs © Louis Kraft 2013-2020
Contact Kraft at writerkraft@gmail.com or comment at the end of the blogs

---
Those of you who know me, and I mean, really know me, know that I move at my own pace, especially when it comes to my personal life.
I'm in no rush, for I cherish my life and attempt to enjoy each and every minute of it, regardless if it is a never-ending night as I can't sleep or hanging out with my daughter or seeing people—friends or would-be friends. You probably don't know this, but I intend to live to at least 120. I have books to write, people to piss off, and people to know and enjoy.
People who have become my friends have all done so because I allowed them to enter my writing life.
Most live in other states, outside the U.S., or in that far-off land we call Northern California. Whenever I'm in the same location as them, it is pure joy regardless if it is for work or pleasure. Some people become true friends; others are little more than assholes.
My daughter is my life, and luckily she lives close to me.
Back in 2008 a group called the "Mulholland Drive Boys" was created to unite writers, artists, directors, and other people interested in Errol Flynn and bring them together. For the most part, the group doesn't exist, or at best is dormant. No matter, for the creation of the Mulholland Drive Boys introduced me to a number of people (most of whom are not worth remembering).
As there is a memoir in my future, I am also using this blog to not only explore my writing ups and downs, my thrills and failures while also keeping you updated on current projects. The goal is to also figure out who I am, where I've been, and zero in on a past that is filled with both unsavory (and there are a lot of these—but that's for the memoir) and golden moments. That is people, memories, flashes in time.
It's time for you to sit down and hold on
If you're not sitting, please do so before looking at the next image and reading the first sentence that follows the image and its caption.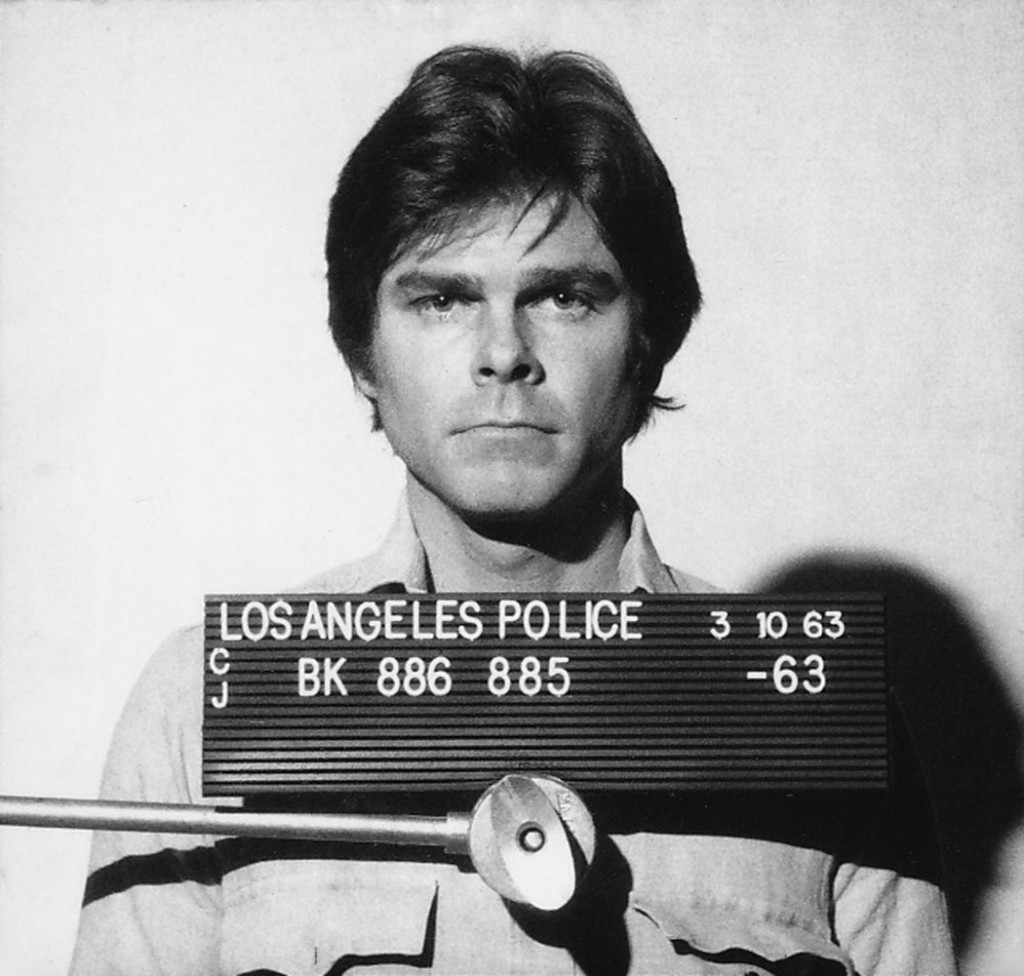 No, no, no, and once again NO—LK isn't a convicted felon. This image was taken at the Lincoln Heights jail in Los Angeles on January 24, 1979, by Ron Batzdorff, who was the still photographer on The Onion Field. If memory serves me, this jail was not in operation at the time (don't know if it still exists). Great film location, and honestly scary. During free time, I spent time sitting in a locked jail cell, letting my mind flow with whatever images hit me. Not something I ever want to experience in real life. The numbers you see in the image are real, Gregory Powell murdered a Los Angeles police officer in 1963. Joe Wambaugh's best selling book, The Onion Field, documented the crime; he also produced the film. James Woods shot to stardom with his portrayal of Gregory Powell, and so did Ted Danson, who played the murdered officer. Although I haven't seen either in 30 or so years, back in those days I worked with them on other projects. My memories of Jimmy and Ted are first class, and in no way are my views of them negative. … On a side note, a few years before the film was shot I did work in a cotton field in Texas. (photo © Louis Kraft 1979)
One thing I can state clearly and honestly—I'm shy. Always have been. Those of you who know me are probably chuckling. Go ahead, make it an out and out laugh, but 'tis true. I've always been aggressive when I've played sports (tennis, football, baseball, and so on), but when interested in a lady my brain goes south. I'm lucky if I can mumble a few words.
I had a fairly long acting/modeling/film world career that was at best unfulfilling and at worst a waste of my time. A very true statement, but it obscures and almost damns a multitude of truly caring and artistic people I worked with, hung out with, and have nothing but cherished memories during my time with them. Actors, directors, crew members. This was also a time of getting in sync with my inner being; understanding what made me tick, and accepting me for being me. When not working, I did this on an almost daily basis with actors (exceptional people). Most are gone from my life (but I have memories). Two friends are always with me, regardless of when I see or talk to them. I worked with actress and production assistant (Kathleen Heller) for a few years and a costumer (Marjorie K. Chan), whom I met on Tucker's Witch (1982-1983, which were the years it aired on TV) with Tim Matheson and Catherine Hicks. We also worked on Johnny Belinda (1982, which we shot after we completed work on Tucker's Witch) with Richard Thomas, Rosanna Arquette, and Dennis Quaid. Kathleen and Marjorie—are two special people, and good friends always.
Returning to those dark days of yesteryear, I did learn that to succeed (and I quit acting cold turkey to write full–time in the 1980s) I needed to approach what I wanted head-on. I needed to put my fears to rest and be aggressive. What I failed to do in the film/acting world due to shyness hang-ups and my refusal to do things I found repulsive and/or disgusting. Simply put I have refused to sell my body for an acting job. This has always been in place, and believe it or not more recent times a bald asshole husband actually pitched me on being intimate with his wife. In a word—disgusting!
I have not encountered the slimball film world or a bald wanna–be friend's ongoing heinous proposal of me F—king his wife in the writing world. The writing world—be it freelance or for companies—has never assaulted or compromised my values. Never. Add my good fortune to write for major software companies, something that has given me the freedom to only write about subjects important to me in the freelance world, and I'm one lucky person.
The times they are a changin'
Events in April 2012 made me take a long hard look at my world. It was time for a change regardless of the cost (and this would be large). That change would take time and guts for me to hold course. Fast forward a year to May 2013. I could now look back at 2011, a year that had been a wild ride of highs and deep-deep lows, but the hibernation had been in effect since late 2008 or early 2009 when my world went south. This is not quite true, for the Wynkoop book saw print in 2011 and my relationship with Marissa blossomed after a decade of darkness.
I pretty much keep to myself. I see Marissa, but that is pretty much it. Entertain? Me? Who are you kidding? My good pal and Flynn expert David DeWitt visited for five days at the beginning of this year. is a good friend that I can hang out with for hours on end. He is always welcome in my home. I've been in a shell for years (except when on the road). I needed to escape from my self-imposed banishment.
An introduction to a key person in my life
In 2002 Robert Goodman, MD, suggested I see Malcolm Cosgrove, MD. Within a little more than six months Dr. Cosgrove would become responsible for me continuing to walk this earth. If not for him I would be a long-forgotten memory. I see him every three months. I saw him on June 14, and everything went according to plan. We tested and discussed two subjects important to me. Over the years I've grown to know and like him, so we have more than just a doctor–patient relationship. The next day, June 15th, he was flying to Israel for a family reunion and much more, and he looked forward to a great trip. He's aware of what I do, but on this day I introduced him to my new website/blog, which hadn't gone live when last I saw him. He asked what was up next, and I told him about a dinner party on June 15, and that one of my four guests was bringing a friend to introduce to me (more about this below). He asked if I had ever been married, and I replied that I had been back in the dark ages. He chuckled as he asked if my guests were married. I said yes, and he said, "Be careful; they want to make you like them." We laughed, and I said, "Don't worry." I have a protective shell that is forever present—unless I want something, no one enters my life.
A June dinner party
Back to the thrust of this blog. I had survived April and May bills (no easy task; actually I've relearned how to juggle, a throwback to the acting world). It was time to again entertain.
I hadn't hosted a dinner party in a long time. This had to come to an end, and I wanted it to happen now. I invited two couples that were little more than acquaintances.
Over the years following the creation of the Mulholland Drive Boys I had bumped into these people. It looked as if it might grow into a friendship—it didn't but who cares? Certainly not I. Been there before, and I never hold my breath.
But on this day, this June 15th day, I would have a bonus for because one of them I would also meet a lady.
Let's call her a small friend.
A small friend
When I announced the June 15 dinner party, the lady who knows the sword asked if she could bring a friend to introduce to me. I hesitated, and I think she was hurt or worse mad, but her husband told me that she doesn't get mad. We're back to the "shy" LK thing. You know my world now—it's me and my fantasy life that spends fully 85-90 percent of my time in my house studying or searching or dreaming or writing. My social life? A joke. It took me a while for me to say yes to the lady whose body I wanted to know in the flesh, but could never.  After she asked the lady and the lady said "yes," I felt good. Nervous, but good. The gorgeous woman whose body I'll never know asked what her friend could bring.  "The fish, veggies, and salad," I replied. She chuckled online, "Ha-ha. Very funny." I told her that all the lady had to bring was herself.
On June 15 one couple arrived. As I walked them through the rooms, there was a knock at the front door. I went to it, opened it, and saw the woman (and her companion) who had insisted upon bringing a guest. The small lady stood farthest from the door. She was holding orchids and smiling. With eyes drawn to her my heart skipped a beat or three or five. I should have had a camera in my hand, but didn't (story of my life—read into that whatever you want).
I knew that the lady I was about to meet was shy and she was. Her name is Pailin Subanna. "Nuch." I'm a gentleman (probably some people might disagree with this; all I can say is that I try). On this day I was definitely on good behavior, and when combined with my shyness, it guaranteed what I wouldn't say or not say.
During the meal the sexual partner of the lady who brought Pailin to the dinner party stood and demanded that Nuch kiss me. She refused. I couldn't have agreed more with her refusal, for we didn't know each other.
He continued his verbal assault and the lady held firm.
Finally I said, the lady said "no." "No means no."
The other male present, and his fists were clinched, agreed with me. Finally the obnoxious bully shut up and sat down.
A good ending to something that could have gotten ugly.
Alas, the time for everyone to leave came too quickly. But by this time I knew one thing—I wanted Nuch to enter my life, I wanted her to become my friend.
We had talked about our social media, and later that night connected. Social media gave us the opportunity to share our thoughts and set a time for us to meet.
Sometimes you meet people who are good human beings, and sometimes you don't. It's a crap shoot, and when people who you think are worth knowing but turn out to be people not worth knowing you must walk away from them—and as soon as possible no matter how late in the day it is.
__________
And the good news is that we are getting to know each other while enjoying each other's company. Exploration and learning are always fun. She has a good sense of humor, is very feminine, and has a sensitivity that I have not seen in many people. She likes to explore, and from what she has told me, she has the adventurous spirit of some of the men that have caught my interest over time, … Francis Drake, Kit Carson, Ned Wynkoop, and Errol Flynn. I'm not joking here, for she has no fear to set out into the unknown. Nuch is a brave person.
She also has a tender touch. Physically and inside her. She has an intimate feel for the moment, and is in tune with her inner being as well as what is going on with us. Her openness to what she senses and reacts to is something that has been with me since those long gone days of the acting world, something I haven't experienced with another lady in decades.* When someone has this gift, and Nuch does, culture and language are not barriers. For me culture and language are a lure, an enticement to know another human being. It has always been this way with me, and I think for Nuch, too. It has, in a very short time, given us a closeness that is special.
* Acting training includes exercises wherein you get in tune with another human being. Facing each other, and without doing anything you react off what you see, feel, and sense. It is sensual, sexual, and in the moment. The goal is to make you open to what is happening around you so that you can grasp it, understand it, and react to it. Everyone should go through this type of training.
My life has been out of balance for years now. I have my writing, my friends, and Marissa, but there has been a missing piece. But no longer, for Nuch has opened her heart and become my friend. And listening to her words and knowing what is going on inside me, I think that our friendship is going to grow. My life has suddenly found a new balance.
lk: "นี่คือผู้หญิงที่สำหรับฉัน" .และเธอเป็นผู้หญิงของฉัน" (khụ̄x p̄hū̂h̄ỵing thī̀ s̄ảh̄rạb c̄hạn .Læa ṭhex pĕn p̄hū̂h̄ỵing k̄hxng c̄hạn).