Website & blogs © Louis Kraft 2013-2020
Contact Kraft at writerkraft@gmail.com or comment at the end of the blogs
---
For starters Pailin and I hope that the day we celebrated Jesus Christ's birth was a peaceful and loving one for you with your family and friends. … Also that you had a safe and uneventful New Year's Eve. Ours was at Wat Thai (Thai Temple of Los Angeles in North Hollywood) praying and seeing some friends as we welcomed in 2018.
The year 2017, more than any other, has made me realize how
fragile life really is. For the record, I have a family of four—three ladies
and yours truly. I've survived some horrific car crashes, I've had guns
pointed at me, a knife at my throat, I've taken a motorcycle over a
a cliff, I've been knocked cold (I don't know if this counts), and
I've survived cracking my skull open more than once as
well as surgeries that had to succeed or I would I have
been dancing with Angels long before now.
My view: I love walking on Mother Earth.
Fire, wind, more fire, & more wind … a SoCal story
Elsewhere I've documented the frightening Los Angeles and Ventura County fires of December 2017. It's rough when you can watch flames billow into ever-growing puffs of brown smoke that obliterate the sky. You know that property is being destroyed and animals are dying.
But often the men and women who combat these horrific Santa Ana winds that range upwards to 80 MPH and fuel the fires that ravage SoCal year-in-and-year-out fall under the radar. These people, these heroes, risk their lives on a daily basis. During the recent Sylmar/Canyon fire in the San Fernando Valley that put Pailin and I at risk (a December 6 LA government text read: "Strong winds over night creating extreme fire danger. Stay alert. Listen to authorities."), they worked 24-hour shifts to combat an enemy (wind and fire) that is a hundred times more devastating than the earthquakes that are associated with SoCal. These brave human beings deserve all our respect and thanks. Believe it or not, they aren't alone for volunteers joined them along with fire fighters from other states as well as people serving jail time in California.
All of them are magnificent!!! Perhaps some of these heroes serving jail time should see the remainder of their sentences commuted.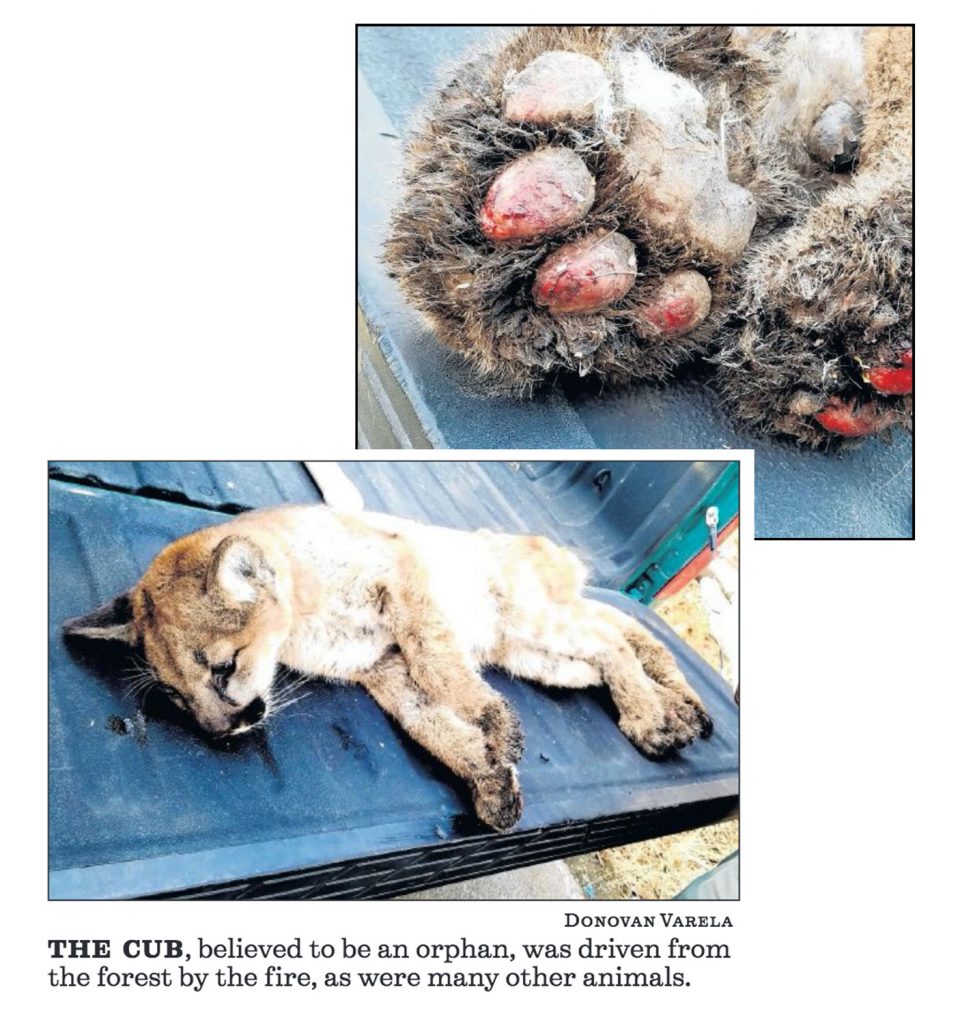 … and the Thomas fire continues to burn (as of 30dec17).
I have favorite animals. Just five: Mountain lions (pumas), horses, wolves, coyotes, and doberman pinchers, The last are dogs, and they are the most gentle animals I have ever known. The Pumas are beyond belief, and they are a major part of my life as I follow their struggle to remain free in SoCal. Today, tomorrow, and always. These photos are from an article in the 27Dec2017 issue of the LA Times. This young Puma was burned while attempting to flee from the Thomas fire. It has been rescued and is on its way to recovery.
Ye-ough!!! (a sound) … For California 2018 will be back to normal if what the LA Times just published is accurate, mainly that this winter would be one of the driest in California history. If true next year's fires will again ravish the Golden State. Pailin's and my home was at fire risk twice in 2017 (June and October).
This image of a condor (left) and its chick was on the front page of the LA Times on 1jan2018, as it featured a story on endangered species chick no. 871, who should have left its cave and flew for the first time in December. It didn't as the Thomas Fire ravished the Los Padres Sespe Condor Sanctuary. Scientists have recently seen its parents near the cave and hope that the chick has survived.
If fires attack Los Angeles in 2018 it is not going to be 1,000 homes destroyed, it is not going to be 2,000 homes destroyed, … it will be thousands upon thousands of homes destroyed. The homeless count in LA is currently 55,000 (how large is the city you live in?). If, and I pray God this never becomes reality, … if the 2018 fires destroy the San Fernando Valley (one of numerous valleys in the county of Los Angeles) 1.3 million people will become homeless; the threat was ominous in 2017. … Will it become reality in 2018?
Earthquakes? What are they? Fire is the numeral uno enemy to the Golden State.
Oh, I forgot to mention that global warming is little more than fiction. My view on this: Everyone who thinks global warning is little more than a left wing piece of baloney have got their fingers firmly stuffed somewhere.
The year 2017 is one for the California record books
It is official, 2017 has been the hottest year on record for California. It has also been the worst fire year on record, and the Thomas Fire that started in Ventura County (which borders Los Angeles County) and has raged north and into Santa Barbara County is the largest fire in California since they began keeping accurate records in the early 1930s. This fire began on December 4; it was still burning on December 30 (but although it is supposedly 65 percent contained … homes are still threatened).
Something needs to be said about earthquakes
I have lived through the last two major earthquakes in SoCal: 1971 and 1994. I can't tell you how often I have been quizzed about the horror of an earthquake when outside California. People I have met when giving talks or performances or on research trips are forever interested (some of them are terrified of experiencing one). … Let's start this conversation with LK isn't keen on living through a hurricane or a tornado.
I guess it's all about perspective.
Let's start with tornados. In 1974 I flew to Missouri to buy a 1951 Hudson Hornet, a great automobile that ruled NASCAR racing during the first half of the 1950s (I even wrote a screenplay about them cleaning up at the racetrack called Hornet; unfortunately my agent couldn't sell it).
The Missourian picked me up at the airport. After checking out the Hornet and taking it for a test drive I bought the car. Tornado warnings were live on Missouri TV that morning. He and his family didn't want me to leave. I ate his wife's homemade ice cream and then allowed the family to show me the house where future U.S. president Harry Truman was born. I am a patient and polite cowboy. During this time I had visions of Judy Garland's classic film The Wizard of Oz (1939) dancing around in my brain. If you don't know the film, a tornado transports Judy's character to the land of Oz. It was 1974 and I was picturing me and the 1951 Hudson Hornet being transported to the land of Oz.* Honestly, this was a living nightmare for me. When the seller's family finally gave me a tearful goodbye about eight-thirty that morning I pushed the Hornet's accelerator pad to the floor, … and hightailed it out of Kansas as quickly as I could.
* The Wizard of Oz should have won the Oscar for best film of 1939 (I know, heresy). Gone with the Wind did. I have a large connection with Gone with the Wind due to Ms. Olivia de Havilland. Writing about her connection with this film will take up quite a number of pages in Errol & Olivia, and these words have and will flow speedily forward on the keyboard. Her story here is good stuff. No-no-no; it's great stuff! All I want to say here is The Wizard of Oz, which took me decades to accept and like, is a great film, while Gone with the Wind, which I've hated since the first time I attempted to see it is not. For the record, I have never seen this film completely in one screening (and that includes seeing it in a movie theater; I walked out before falling asleep). I doubt this is a high recommendation.
Let's get back to earthquakes. On February 8, 1971, I needed a place to sleep. My then girlfriend. Joan McGirr, was living with her father. I parked my motorcycle next to her car in the apartment building's underground parking lot and slept in it that night.
The next morning I was awake and reading the newspaper in her car when the earthquake struck. I was out of that parking structure in a flash and as far as I could be from the surrounding apartments. In front of me was a large swimming pool with tidal waves pounding the sides. The surrounding complex consisted of three-story apartments. They looked like old-time cartoons as they swayed back and forth in rhythm with the pool's pounding waves.
The 1994 Northridge earthquake caught me asleep in bed in North Hollywood. It struck about four-thirty in the morning on January 17. Let me say one thing here. When a fairly large earthquake hits there is no guesswork. You know immediately what is happening. Get away from windows and anything that can collapse or fall on you.
Earthquakes don't last long. One minute, two minutes, maybe three minutes and it's over. There are after shocks that can go on for days.
Front and center in an unbelievable story
LK image choices are now being selected for Sand Creek and the Tragic
End of a Lifeway, and they will add great value to the book.
I know, I know, I've always known (nothing new here). For the record I'm working on the Sand Creek manuscript seven days a week until I deliver a first rough draft to the great editor-in-chief of the University of Oklahoma Press, Chuck Rankin at the end of January. He has always been my friend since we met years back. By that I mean that he has done everything possible to see that my manuscripts saw publication, … and this was long before we signed the Wynkoop contract. Folks, in case you don't know, OU Press is the largest and best publisher of Indian wars books in the world. In the world! They are my publisher, which makes me one of the luckiest guys in the world.
At times events happen and they affect all of our hearts in different ways. …
31dec2017 was one of those days, but with life there's always hope.
Pain over the loss of a cherished person is always private. … Life
can be fickle. One day we're here and healthy, but there is
no guarantee for tomorrow (I'm not talking about me).
A bashed-face and worse … that's me!!!
Ouch! … for it is worse, and I hate to say it but this is the story of my life.
On 11nov2017 I took the subway from the North Hollywood hub (the Red line) to the main LA Public Library. My bad from the beginning, but it was worse than that for good ol' LK got lost. What should have been three miles of total walking turned into six + miles of walking. Huh??? Take one guess. LK was clueless and got lost. If you know downtown LA there are good places and there are bad places and I got to see all of them, including a male urinating in pure daylight (I know, this is not a major selling point for Los Angeles). When I finally reached the library I was in for a shock. It was November 11—Hello cowboy! … Veteran's Day—and the library had shut down Friday, the 10th, through Sunday, the 12th, for the Veteran's Day weekend. What can I say other than keep your views to yourself. That's right, I don't want to hear them.
My day excursion, which began at nine in the morning ended at 12:25 in the afternoon with roughly two and a half hours spent as LK walked as fast as he could. Again, and by my calculations, it was over six miles. … You do not want to know what my feet felt like that afternoon, for all you'll get from me is a bunch of XXXs and !!!s.
See below for the continuation of this story. …
The creation of history
If I chose to list all the historians who have shaped history in their image you would be shocked. I know a very good Indian wars historian who once told me that he wanted to turn history upside down. Say what? Basically this person wanted to push Indian wars history to the extreme.
That's right, and more often than you would ever guess historians do this. Facts don't drive what they write, sensationalization does. Most of the time they choose people who are no longer with us as you can't be charged with defaming the dead in the USA. This is not hard to do when you write about the American Indian wars or the Golden Age of the Cinema.
This blog, as most in the near future, features events that led to the attack by Colorado Volunteers on people who thought that they were under the protection of the U.S. military on 29nov1864.
For the record I've been giving talks based upon reality for thirty years, since 1987. These are talks wherein I know my subject matter and I don't read. At the moment I'm on self-imposed sabbatical. The reason is simple: I have a book to complete that is of major importance to me.
Believe it or not, I have been persona non-grata for more years than I'd like to count. You do not want to know about people who turn their back to me when I walk past them. What's their problem? Hell, I don't know. I'll say this, they ain't my friends.
Barbara Hershey and a film I like
What can I say about Ms. Hershey other than I'd like to know her well enough that we could share our views on the world, living, and creativity. Given decent parts in film or class TV productions she has time and again proven how good of an actress she is.
Last of the Dogmen
Barbara Hershey played an anthropologist whose expertise was the Cheyenne Indians in Last of the Dogmen (Savoy Pictures, 1995). In this film, which always makes my top 50 (now 60) film list had a great quote that Barbara said. But first she had to deal with a modern-day bounty hunter played by Tom Berenger.
Berenger had found evidence that points to Cheyenne Indians from a time long gone killing escaped criminals, and he's trying to learn if people from the mid-nineteenth century could have survived undiscovered into the mid-1990s. Hershey finds his quest ludicrous. And it is, but it opens a door to explore race relations between people from a time dear to my heart with those living in the mid-1990s. From the get-go the film is fantasy for the simple reason that there were few Cheyenne Dog Men (whites called them Dog Soldiers) at the November 29, 1864, massacre of Cheyenne and Arapaho Indians on Sand Creek, Colorado Territory, an attack that saw children used for target practice, an unborn child cut from its dead mother's womb and scalped, … it gets worse, much-much worse. … Before the story can take off Hershey gives Berenger a history lesson on the Cheyennes along with their struggle to retain their freedom, land, and lifeway before again making it clear that Dog Men could not and did not murder the escaped convicts as there were no "Dog Men" from the 1860s living as they had in 1864 in modern times. Lordy-lordy, you have got to love this premise as it is a good one. Barbara's quote in the film was great, but you're not going to read these words in this blog. See the film, … and when Sand Creek and the Tragic End of a Lifeway is published read the book. Here's a big hint: Barbara's quote is the final two sentences in the book.
Sand Creek players have been pounded time and again …
Certainly Ned Wynkoop has been labeled a "traitor" to his race, and an Indian-lover. This pounding centers on his acting without orders (not cool when you are in the military) to save white prisoners and bring seven Cheyenne and Arapaho chiefs to Denver to discuss ending the 1864 Cheyenne war with John Evans, the second territorial governor of Colorado. One premise holds that the massacre at Sand Creek would have never happened if he had not done this.
Really? All I'll say here is that illogic follows and stampedes its way into the foreground.
This isn't worth talking about, other than to say there were many participants in the events that led up to the attack on a Cheyenne and Arapaho village on Sand Creek in November 1864. It was not just one player, it was a combination of multiple players and all their actions. People make choices. You make choices; I make choices. So did Evans, Wynkoop, Colonel John Chivington, Cheyenne Chief Black Kettle, Arapaho Chief Left Hand, and on and on.
The tragedy of Sand Creek is much more than an officer (Wynkoop) acting without orders to rescue four white children and bring seven Indian leaders to Denver to discuss ending a war. If illogical thinking rules the day, why not say that the Sand Creek village was "easy prey," like some of those hunting estates where macho men with big guns can hunt big game that can't escape as they are trapped within the preserve?
These people had their vaginas cut out, their penises hacked off. Their children had their skulls bashed in. The term "war crime," didn't exist in 1864, but it does now. What happened in 1864 was a war crime regardless of what it might have been called then. Pure and simple. You do this today, and you happen to be an American soldier, you will be tried for war crimes. … I'm not certain when this came to pass but it was certainly in place at the end of World War II when Nazis were charged with heinous crimes of genocide against the Jewish people. BTW, "genocide" became a word in 1945.
These crimes live into the twenty-first century when on March 12, 2006, an American soldier (Specialist James Barker) raped and murdered a fourteen-year-old Iraqi girl, Abeer Qassim al-Janabi. He and five soldiers with him then murdered her father, mother, and six-year-old sister in Mahmoudiya, twenty miles south of Baghdad. They burned the bodies in an attempt to cover up their crime.
… and the Cheyennes?
For starters there were a number of Southern Cheyenne bands trusting Chief Black Kettle's efforts to remove them from the on-going war. Unfortunately their approximate location was known, making them an easy target. Chivington's goal was never to fight Cheyenne Dog Men and Lakotas who rode the war trail farther north. Instead, he wanted a target that never expected to be attacked. That's right, he wanted "easy prey." Chivington would claim a lopsided victory with a huge death count that perhaps exceeded the total number of people that could have possibly been living in this Sand Creek village, and for a short time became a great Indian fighter.
What can I say. My Sand Creek proposal was 37 pages long. I presented a detailed outline of what I thought the final manuscript should include. It also stated that nothing was set in stone, that my research would define the flow of the manuscript. … Boy, is this a true statement.
Actually Chivington is going to have a smaller role than planned. Such is life. This said, his impact on the story is huge.
Fort Larned plays an important role in the Sand Creek story. Black Kettle, Neva, Left Hand, Little Raven, William Bent, George Bent, John Smith, and Wynkoop all spent time there. The destruction of the Pawnee Fork village (about 35 miles west of the post) was a continuation of what began in the early 1860s.
Territorial governor John Evans has been pounded
But should he have been? I'm not so sure, and although I hate to admit this, I don't totally agree with the University of Denver's study of Evans, and his part in the disaster. Still, they uncovered key information regarding the governor ducking the issue while in Washington D.C., and he didn't return to Denver until spring 1865.
Let's be up front, some of John Evans' words and actions led to his downfall (which has been frighteningly similar to the racist backlash we have seen against the Southern states fight to remove themselves from the United States of America in the 1860s. Yikes!!!! How can the USA banish and remove one of the most important pieces of our history, the war between the states? Without a doubt slavery was (and is) heinous, and it has always been so. Owning another human being and playing god with his or her life is evil (but I'm talking from a modern POV). Times have changed in regards to racism for the better, but from what we have seen in 2017 we still have a long way to go.
Some of Evans' proclamations are damaging. However, his attempts to avoid or end war were something he tried to do. More important, he left for the east on November 10, that was nineteen days prior to Chivington's massacre of men, women, and children, and he didn't learn of the battle until days afterwards. Evans wanted war and wanted the Cheyennes and Arapahos removed from the territory but he had no clue that this would happen to the people who tried to end the war.
Evans' fall from grace is similar to Kit Carson's. … Folks, Kit was a good friend to the American Indians. He spoke seven languages: English, Spanish, and five native languages. If he were the butcher that modern times attempts to label him, why would he speak (at least partially) the words of the Navajos, Mescalero Apaches, Cheyennes, Arapahos, and Utes? Oh, I forgot to mention that he had three wives: Arapaho, Cheyenne, and a Latina of Spanish decent. One more fact, he converted to Catholicism to marry his Spanish wife. Does this sound like a racist? I think not. … Pray God I live long enough to complete two books that deal with Carson and his relationship with American Indians. … One fiction; one nonfiction.
John Evans has become an evil person. … Really? Guess what? John Evans was a human being who thought he was doing right when he did it. I'm not going to tell you that he was a good person or an evil one. If I do my job his words and actions will allow you to make your own decision of who he was.
Ditto everyone else, and this includes John Chivington. BTW, he will be the last piece of the manuscript to be completed. Oh, he has a presence now, but it is not close to being finished. Like Evans and everyone else, it is my job is to show what he said and what he did. There is nothing worse than an author (history or fiction, it matters not) who has a preconceived premise on an historical personage and will stay the course regardless of how much discovery disproves their premise. God forbid they shy away from their damnation of a human being because they see facts that shoots arrows into their task of destroying a person's life. And especially people who are gone and cannot defend themselves. Yep, folks you can defame the dead in the USA (but be careful if you attempt to defame the living, for then you might set yourself up to join the homeless wandering the streets of LA).
Back to the reality of our times
Is it ethical to sell out truth for greater book sales? Honestly, you don't want to know my opinion on this. Many writers have done this over the years, and it isn't confined to the Indian wars. The most infamous—in my opinion—was Charles Higham. Higham, a film biographer, printed despicable lies about two of his subjects (see below), for the simple reason that he wanted to sell books. Other biographers and historians in modern times have mimicked Higham's practice of creating false facts that bleed red for the same reason, to pocket as many greenbacks as possible. There's one difference, these hacks of recent times (that is post 1980) stoop so low with their fictional creations that they are little more than cockroaches that run rampant in their readers' minds as they spread filth that has no basis in reality.
In his 1980 best-selling piece of slop called Errol Flynn: The Untold Story, without proof Higham wrote that Flynn was both homosexual and a Nazi spy. Over the years real historians have debunked all of Higham's falsehoods. Still the general public, if they remember anything about Flynn, it is that he was homosexual Nazi spy. Hell, the media still sells this as there is nothing better than trashing a star's name for the simple reason that the public gobbles it up. As said above there is no punishment for defaming the dead in the USA. Not so in Canada; Higham's book was also published in the land of our neighbors to the north. Flynn's daughters Deidre and Rory went after Higham in Canada. To avoid going to court and potential prosecution Higham never set foot in Canada for the rest of his life. … I can't speak about Higham's other film biographies save one—Sisters: The Story of Olivia de Havilland and Joan Fontaine (1984). I presented Olivia with a lot of questions about this book in letters and in person. Olivia made one reply in writing in which she dismissed Higham with three words (and none were profane). In person the only thing she said about him and his book on her and Joan was that he never contacted her, never asked her one question.
Was Higham a charlatan? Are other historians charlatans? I believe in challenging history. I also believe that it must be done ethically and not by presenting outrageous statements that are fiction-based on preconceived premises with the lone goal of destruction.
Another story
He was flesh and blood, had a deep baritone voice, was a college professor, had lived through the revolution of the 1960s, had evolved into the 1970s, and when I met him in the 1980s he had fine-tuned his persona. Oh, I forgot, he was also a writer. Charm oozed from him. He instantly became a friend (think 1989 in San Diego).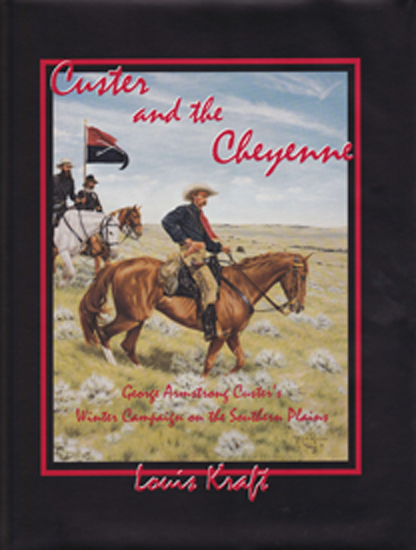 Years passed. It was now 1995 and we were at the Western Writers of America (WWA) convention in Cheyenne, Wyoming (I'm foggy on the location but think the timing was with the publication of Custer and the Cheyenne).
I'm going to pull from a major lesson I learned from Errol Flynn's magnificent memoir, My Wicked, Wicked Ways, which was published shortly after his death in 1959. Mainly, that at times one must remain vague to protect friends, former lovers, and yours truly. I hope that what I share here is okay. I'm back to the writer that evolved from 1960s to the 1980s. He was working on a book wherein he claimed his subject—Billy the Kid—outlived his death by decades. "Do you believe he wasn't murdered?" I asked. He honestly replied that he did believe that the Kid was murdered. "Why are you writing this manuscript?" He again honestly answered that it would sell books. This author's name was W. C. Jameson.
Kudos to him for his honesty. At the same time his words now mimic the truth of today's world. If the truth gets in the way of your preconceived premise, dismiss it. If someone confronts you on your lie, one-up them and call them "little Billy," or "bullshitting Johnny," or "sex stalker Alex," or "lying Donald." The new key words here are: "Fake News." Point your finger at them, scream, and if possible see that your hateful rants explode all over social media.
Luckily for me the Dennis the Menace cartoons continue to live in the Los Angeles Times (this cartoon appeared in the 22nov17 edition of the paper). Although cartoonist Hank Ketcham is long gone, his wonderful creation continues to live at dennisthemeance.com and in various newspapers. The North America Synd. holds the 2017 copyright.
Good Lord, is this really today's world? If yes, I need say no more.
The struggle to bring the Tsistsistas (Cheyennes) into their new world
Ladies and gents, separating myth and fiction from fact is an hellacious task, and one I've struggled with for years now. Also, unfortunately, no one is ever going to get all the facts straight. It is an impossible task.
Believe it or not the Cheyennes have been mostly painted as villains throughout their history. Their views and their facts have been almost totally ignored as little more than lies. There's an adage, and it is that the conqueror writes the history books. … The vanquished are savages or worse and the winners are heroes who have saved mankind.
… and this includes some mixed-blood Cheyennes
I'll mention two here: Julia Bent and her step brother Charles (Charley) Bent. Their father was trader William Bent, who plays a fairly large role in my Sand Creek manuscript, but surprisingly wasn't as I expected him to be (this statement should have a few exclamation points as the William Bent I now know is not the William Bent I thought I knew). … I can't begin to tell how many hours I've spent on Julia and Charley. I know them somewhat, but I wish more. She is little more than a beautiful image that appears and disappears during the tumultuous times of the 1860s while Charles has been pounded to hell as little more than a vicious killer.
If you believe just half of the recordings of supposed Cheyenne raids between 1864 and 1867, Charley Bent was named way-too-many times as a traitorous leader of perhaps thirty percent of these raids, and yet when he died he had not yet reached his twentieth year, and this is an easy fact to prove regardless of David Lavender's fanciful words without a drop of proof in Bent's Fort (1954) or Halaas & Masich's tons of research citations in Halfbreed (2004), which simply muddies the water while providing little support for important text in their biography of George Bent.
I don't have much on either Julia or Charles, but what I do have will be in the book for both were exceptional young people during a time of death and destruction. I won't come close to sharing who they really were, but I will present them to you in an honest way while at the same time destroying some of the undocumented baloney that has been printed and reprinted about them ad nauseam.
There is Sand Creek Massacre research coming that will open some eyes
The misinformation and out-and-out fabrications of reality in the Sand Creek story is mind-boggling. These ongoing fabrications range from Laura Roper becoming Black Kettle's sexual object to Isabelle Eubanks being five when the Cheyennes gave her to Wynkoop on September 12, 1864 (a date that is erroneously documented easily sixty percent of the time).
A wonderful research surprise in Downtown LA
A young wife was captured one day after the Cheyenne raid that captured Isabelle, her mother, younger brother, a relative, and Laura Roper. This young woman, like those taken with Isabelle, also plays a key if small role in the story. I had seen most if not all of the published documentation about her. Her name was Nancy Morton. During an horrendous string of a few days mostly along the Platte River Route she, along with many other whites, survived while seeing her family murdered and hacked to pieces. Traveling settlers, ranchers, station employees were attacked, many murdered, while a small number of whites were taken prisoner. There is an old cliché, "Save the last bullet for yourself," as death or captivity by Indians was not something anyone wanted to experience. … Nancy and a boy named Daniel Marble survived the attack on their wagon train.
I have spent a lot of good time with Marty Vestecka Miller, of the Nebraska State Historical Society, who secured the interlibrary loan of a microfilm reel on Nancy Morton for me. As the only library in the 100-library system of Los Angeles that still had microfilm readers that could also print was the central library in downtown Los Angeles I had to set up the loan there as the microfilm could not leave the library.
On November 18 I got wise and looked at a map of the subway exit and the downtown library. They looked shockingly close to each other. On this day I used the Hope Street exit from the subway, looked to my left and could see the library two and a half blocks distant. On this day I worked closely with Christopher Juarez (pictured above), who not only got me set up on the microfilm machine but made me aware that I didn't have to pay for printouts of the pages, but could scan them and email them to myself free of charge. Folks, when you are looking at over 250 images this is a pretty cool savings. Christopher worked closely with me on this day and then the next day as he ensured that I obtained every image that I needed. I have nothing but kudos to say about Christopher. The city of Los Angeles should give this young man a pay raise, and I'm not joking here. Los Angeles is lucky to employ him. Good work needs to be rewarded. Mayor Eric Garcetti, if you see this post or if you hear of this post, know one thing: Christopher Juarez is an extraordinary employee and the city is lucky to have him.
The people of Sand Creek
The major players range from the second territorial governor of Colorado Territory, the chief editor and co-partner of the most successful newspaper in Denver during the 1860s and beyond, the commanding colonel of the District of Colorado, the official U.S. interpreter for all four major treaties with the Cheyenne Indians between 1851 and 1867, a major partner of the most successful trading post who married into the Cheyenne tribe, one of his mixed-blood sons, and the one man who dared to act for he thought was for the good of mankind and has since been termed a traitor to his own race. They were ambitious, had views of success in their dreams, but like you and I had to survive in a world beyond their control.
I know. Where's Cheyennes Black Kettle, Lean Bear, or Bull Bear; and Arapahos Left Hand, Neva, and Little Raven? Trust me, for they are a comin' to life, … I want them to be surprises; I want them to explode off the pages. Actually Black Kettle and Little Raven will surprise you, but unfortunately I simply don't have enough on the others to allow them to also dominate. Still Left Hand was a person I wish I could have known in life.
More important, and like most of us, they thought that what they did was right when they did it. … What I've learned is not what I wanted to know. I'm writing the manuscript as a biography through the eyes of (currently) nine people. I'm doing everything I can to be in their point-of-view (POV), a film term.
Where the hell am I? Simply, I'm treading water in the middle of pure hell. Does this sound negative? Probably, but it shouldn't be as I'm inching closer to completing perhaps the most important manuscript of my life. If true, I must see Sand Creek and the Tragic End of a Lifeway through to print. Folks, I can't see this happening before 2019. This means I need to live another two years. Doable? I think so, … I hope so. Time will tell.
Sand Creek and the Tragic End of a Lifeway has 37 contracted images. Three will be maps; that leaves 34 photos or art. Good times for LK to fill in the blanks. At this moment I have chosen 16 (as I don't own the rights to all these images the process to purchase and determine the use fees is under way. Actually several have already been procured, and all that needs to happen is working out the publishing details and paying the use fees. I hate to say it but at this point in time I must become secretive. Of the 16 I've previously used six of them. This is more than I hoped to use, but the images that will again be used are mandatory to telling the story of the events that led up to the Sand Creek attack and its aftermath.
For the record Chuck Rankin had requested I place as many women in the manuscript as possible. My research leading to the creation of the proposal and its acceptance was less than sparkling, meaning that there were no women who would be in the manuscript. Over the last three years of research this view has changed. I mentioned a couple of young ladies above. This is, for me, great news. Hopefully they will come to life when the book is published, even if their presence is small, for they are oh-so important to the Sand Creek story.
A small repetition
My Sand Creek proposal was a very-detailed thirty-seven pages, but it also included a "get out of jail" pass. This simply means that as a writer-historian I track all the usual suspects and try to follow where the trail leads. That is, the documentable facts. Actions and words define character. My job is not to create villains and heroes; rather it is to present people to you. If I do my job correctly you will make your own decisions of who they were and what happened.
As said above, this is a seven-day-a-week job. I'm up between four and four-thirty and often don't get to bed until nine, ten, or later. … You guessed it. Sometimes I have to crash. But even on these days I must research and/or add word count.
I love what I do.
An Errol Flynn tidbit
I want to go off course here while still tiptoeing the straight and narrow. Thank you, Mr. Flynn. I'm not being sarcastic here, for Flynn's My Wicked, Wicked Ways is the best book that I've ever read. His book dealt with time and memory, it dealt with good and bad, success and failure, and protecting the innocent in more ways than one (for example: Not saying much about a person or event, changing a key fact or two, or names of people that Mr. Flynn did not want to hurt, or perhaps because he did not want to be hurt). But sometimes it also included that his memory failed him, or worse a publisher changed facts or names.
For the record, a successful writer named Earl Conrad was hired by Flynn's publisher (G.P. Putnam's Sons) to spend time with him at his home in Jamaica. Flynn had received a good advance to write his memoir, but he was almost at the end of his time on earth, was having trouble completing the manuscript, and needed help. Flynn was self taught, literate, and well published. He always had a story to tell, forever stood firm for what he believed, and never shied away from anything in his life. Without checking, and perhaps it is in Conrad's memoir of his time with Flynn or in Thomas McNulty's Errol Flynn: The Life and Career (by far the best biography on Flynn), but I think Flynn shared about 200,000 words during a handful of weeks with his guest Conrad. Flynn would see and sign-off on the galleys of his memoir but then died before seeing his last book published. (I'll deal with this in my third book on Flynn; perhaps my second if I get lucky and something I want to do happens.)
My friends, … those of you who fear that I'll never complete the first book
on Errol Flynn (and Olivia de Havilland), relax, for that book is closer
to publication than you think. Moreover, the two other planned
books on Mr. Flynn will happen. The second or third
books—there is no order here—will blow you
away in many ways.
Closing thoughts
There are pieces of my life, and luckily they didn't deal with life and death on a major scale or decisions that would affect hundreds and thousands of people. Luckily I've lived in the shadows of time. Honestly, I think that this is a better place to be … for if I lived in earlier times when I would have had a target on my back as I would not have stepped in line and said, "Yes sir!" Luckily I didn't live in the 1860s, for if I had, I'm certain that I would have been murdered on the streets of Denver as Captain Silas Soule was.
Still things have happened and they have affected my life in more ways than I'll ever admit. During those times I wasn't smiling. Looking back I can't stop chuckling.
The little angel sitting on my right shoulder just whacked me in the face. The little devil sitting on my left shoulder simply snickered and said, "You wimp, you deserved that!"
What it all comes down to is life—my life.
My view is simply that you and I have different views of
our lives. … I wouldn't have it any other way.