(University of Oklahoma Press, 2011)
From the dust jacket
"When Edward W. Wynkoop arrived in Colorado Territory during the 1858 gold rush, he was one of many ambitious newcomers seeking wealth in a promising land mostly inhabited by American Indians. After he worked as a miner, sheriff, bartender, and land speculator, Wynkoop's life drastically changed after he joined the First Colorado Volunteers to fight for the Union during the Civil War. This sympathetic but critical biography centers on his subsequent efforts to prevent war with Indians during the volatile 1860s.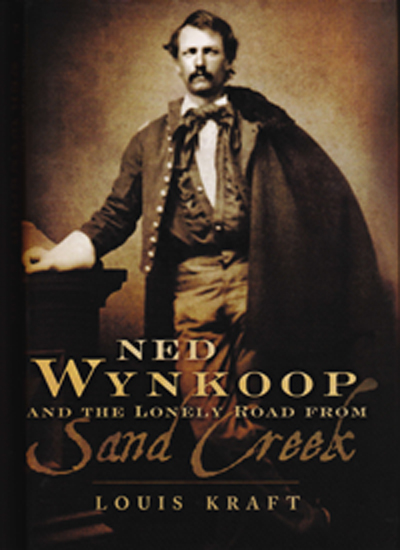 "A central theme of Louis Kraft's engaging narrative is Wynkoop's daring in standing up Anglo-Americans and attempting to end the 1864 Indian war. The Indians may have been dangerous enemies obstructing 'progress,' but they were also human beings. Many whites thought otherwise, and at day break on November 29, 1864, the Colorado Volunteers attacked Black Kettle's sleeping camp. Upon learning of the disaster now known as the Sand Creek Massacre, Wynkoop was appalled and spoke out vehemently against the action.
"Many of his contemporaries damned his views, but Wynkoop devoted the rest of his career as a soldier and then as a U.S. Indian agent to helping Cheyennes and Arapahoes to survive. The tribes' lifeways still centered on the dwindling herds of buffalo, but now they needed guns to hunt. Kraft reveals how hard Wynkoop worked to persuade the Indian Bureau to provide the tribes with firearms along with their allotments of food and clothing—a hard sell to a government bent on protecting white settlers and paving the way for American expansion.
"In the wake of Sand Creek, Wynkoop strove to prevent General Winfield Scott Hancock from destroying a Cheyenne-Sioux village in 1867, only to have the general ignore him and start a war. Fearing more innocent people would die if the 1868 Indian war continued, on November 29 Wynkoop resigned from the Indian Bureau in protest. After the Battle of the Washita in 1868, he worked to expose what had really happened. An eloquent spokesman for Indian rights, but also an outsider, he soon receded into obscurity. Now, thanks to Louis Kraft, we may appreciate Wynkoop as a man of conscience who dared to walk between Indians and Anglo-Americans but was often powerless to prevent the tragic consequences of their conflict."
Reviews
"Louis Kraft's special skill as a biographer is taking a figure from Western history—one whom the general public should know but does not—and telling the story of a meaningful, significant life. He did this expertly with Lt. Charles Gatewood of the Apache wars and now has repeated the feat with frontiersman Edward Wynkoop. In an American history that trumpets great "last stands," Wynkoop spoke out against the mistreatment of the Plains Indians and made his own stand of conscience, one to be studied, remembered and admired."
— R. Eli Paul, co-author of Eyewitness at Wounded Knee (University of Nebraska Press, 2011)
Entire True West magazine review
"Occasionally a writer comes along whose labor-of-love research and fine body of work on a historic Western figure make him the authority on that particular Westerner. English author Joseph Rosa, with his deep, long-standing connection to Wild Bill Hickok, comes immediately to mind. Well, you can now put California author Louis Kraft and his connection to Ned Wynkoop in that same category. Kraft has already written extensively about Wynkoop, including a handful of articles for Wild West, and now he has produced the first full biography of an unusual fellow whose humanitarian stance toward Indians, empathy and "brave act of conscience" made him, in the eyes of many, a villain or a traitor."
— Greg Lalire, editor, Wild West magazine
Entire HISTORYnet.com (Wild West magazine) review
"Louis Kraft has masterfully upended Wynkoop's detractors from the past 150 years. He has brought to life the remarkable story of a man who defied his times by advocating peace and fair treatment for Indians during a period when most, if not all, of Wynkoop's race stood against him and his advocacy. Kraft is to be applauded for bringing to scholars and the general public alike this much-needed biography."
— John H. Monnett, author of Tell Them We Are Going Home: The Odyssey of the Northern Cheyennes (University of Oklahoma Press, 2001)
Entire Center for Colorado & the West review

"This is the third of Louis Kraft's books that I have enjoyed, and I believe this book is a masterpiece. I am selective in my non-fiction reading choices, and for good reason. There is so much available that is unreadable, if not incomprehensible, and from all of the New York publishers. History sells, and it has always outsold fiction ten to one. This is a historical fact. But the market is glutted with unreadable biographies.  … Although I have studied American western history at leisure, I had only a smidgen of knowledge about Ned Wynkoop. Thanks to Mr. Kraft, I am now enlightened, and immediately grateful. Wynkoop is fascinating, his story compelling, his era unlike anything we had seen before or since.
"Kraft follows Edward Wanshaer Wynkoop from his birth in 1836 through his death in 1891, although the focus here is really Wynkoop's attitude and actions regarding fair treatment of the Indian tribes. Kraft's meticulous research highlights all of Wynkoop's fascinating activities which changed dramatically after he joined the first Colorado Volunteers to fight with the Union Army during the Civil War. Kraft delves into his subject with a relish that I found refreshing. One can easily imagine the author's joy as he pieced together a practical understanding of this man who stood "six feet three inches tall" and was athletically built. Every document that Kraft examined, every historical account, every map that he studied, and every daguerreotype that he scrutinized must surely have been akin to finding gold flakes in an old Arizona creekbed. Through it all He maintains a reasonable objective viewpoint, but reading Wynkoop's tale cannot be handled without emotion. It is to Louis Kraft's credit as a writer and historian that his rendering of Ned Wynkoop's life strikes the perfect balance. The heart of the matter, of course, are the events of November 29, 1864, when the Colorado Volunteers attacked Black Kettle's sleeping village. The resulting massacre – and Kraft makes it clear this action was indeed a massacre – would change Wynkoop's life forever. …
"We need to pause here and consider again Louis Kraft's poetic title. There is a reason why he chose to title this book Ned Wynkoop and the Lonely Road from Sand Creek. From this point on Wynkoop is a changed man. He would walk that lonely road as an neglected humanitarian who, as Kraft writes, "…was outraged by the perfidy of butchering people who thought peace had returned to their lives." (p.269) Ultimately, Wynkoop would protest other such actions. "Although Wynkoop knew that his stance for Indian rights was unpopular," Kraft writes, "he naively thought that his outrage over what he considered the wanton murder of innocent people would win the day." (p.252) This is a magnificent book; brimming with passion that is complimented by tonnage of meticulously researched historical facts. Of course, there is so much more to Wynkoop's tale than this reviewer can detail, … Louis Kraft has written the best history on one of the more remarkable characters from this nation's past. Louis Kraft's Ned Wynkoop and the Lonely Road from Sand Creek should become mandatory reading for history buffs and scholars alike. This book is a masterpiece!"
— Thomas McNulty, author of Errol Flynn: the Life and Career (McFarland, 2004)
Entire Tom McNulty review
Comments
— Selected as a "Favorite Read" by True West Magazine (March 2012)
— Finalist for National Cowboy & Western Heritage Museum Wrangler Award for Nonfiction  book (April 2012)
Available from
Amazon
AbeBooks
Barnes & Noble
Louis Kraft writer © Louis Kraft 2013–2020