Website & blogs © Louis Kraft 2013-2020
Contact Kraft at writerkraft@gmail.com or comment at the end of the blog
---
Those of you that have read some of the blogs, know that I interlace a lot of personal information into the blogs. The reason is twofold: 1) To add life and spice to the blogs, and 2) To document information for a memoir that I'm writing.
What follows is 100 percent personal. It is from the heart, and it is in preparation for perhaps the most important meeting of my entire life.
**********
I have introduced and discussed Pailin in previous blogs. If you've read these blogs you know how we met and how that chance meeting altered both of our lives.
Our date with U.S. Immigration is a day away, on August 11. It is a one-shot deal, and will play a major role in our future. We succeed or we fail in our quest to obtain Pailin's Green Card. If we fail, from what I understand we'll have an opportunity to appeal our case. To date, I know no one that has won through appeals. As we have two wonderful friends who must overcome this hurdle (and we pray for their success every day), we know what the odds become if we stumble on August 11. This date was supposed to have been in mid-September at the earliest, and everything I did was geared toward that time. About a week after I completed my first round of research at the Braun Research Library, Southwest Museum (Los Angeles, Ca., and which is now partnered with the Autry National Center), the unanticipated change of date arrived. I have been under the gun ever since, and let me tell you I am dragging and feeling it now big time. I can't remember the last time I felt stress but at the moment it is gobbling me up on a daily basis.
That said, and with the hope that this blog doesn't perturb Immigration, I am giving you a quick introduction to this special lady that I met on June 15, 2013, and who has become my best friend, my love, and my wife.
"No way, never"
In June 2013 I set up a dinner party with four friends that I met earlier in this century during Errol Flynn events that brought us together.
Robert and Annette have become two of my best friends in LA. Greg is a delight to know; bright, funny, and always focused and interested in Flynn, Olivia de Havilland, and the Indian wars. Nam is another story. She is absolutely gorgeous, funny, and a person I really enjoy knowing. At the moment I think I'm on the wrong side of her good side. I could explain the reasons, but I'm not going to.
As the dinner neared Nam approached me in regards to her bringing a coworker to the dinner. It was going to be for five people as I had not had a girlfriend since mid-2011. I said, "No thanks; I'm not interested." I think she was angry and I asked Greg about this. "No," he said, "Nam doesn't get angry." I gave in and told her to invite her friend. Nam told me that she'd ask her. As it turned out, her friend also demurred. Like with me, Nam pushed until the lady agreed to join the dinner party.
After she had a yes, Nam contacted me and told me that the additional guest asked what she could bring. I said: "The salmon, the potatoes, the salad, the bread, and the wine." BTW, that was what I served. "Very funny," Nam said. "What can she bring?" "Just herself," I replied.
On the 15th I posted a sign on the front door. "Clothing is optional in this house." It was a joke, but you've got to know I love pulling people's legs. Robert (who had visited previously) and Annette arrived first. While Robert and I showed Annette the house Greg and company arrived. I answered the door. Greg was on the steps, Nam on the walkway, and the lady behind her. The lady held a vase of orchids. My eyes zeroed in on her. My opinion then and now was and is: "Wow!"
The exploration of the house continued. At one point the lady spoke to Nam in Thai (Nam is Thai and so is the lady). "Whoa-whoa, wait! What did you say?" The question was ignored. I finally asked what the lady preferred to be called as I had heard three names. She said, "Nuch." "Nuch it is," I said. (Note that after we got to know each other and we began to deal with documentation that "Pailin," as it is her real name, came into use; and as I like "Pailin" better, it became what I call her.) We returned to the living room and talked and joked and took some pictures (at the time I had an antique Cannon film camera). Everyone wanted to see the backyard and I led the exodus outside. Although I am changing the front into a desert landscape in the backyard is still basically a garden. The entire yard is enclosed by bushes and trees which give complete privacy. … More pictures and talk and I had to return to the kitchen to prepare the food. … The salmon and potatoes were cooking but I had to chop the salad and make the dressing.
After dinner Greg wanted Pailin to kiss me. This was something that she didn't want to do (and I now know absolutely why) and she refused—which I totally agreed with. Why should two people who don't know each other kiss? Pailin was quiet and yet firm in her refusal and this was something that I really liked. I also said "no" but to no avail and Robert spoke up, backing Pailin's refusal. Eventually Greg realized that no one was going to kiss. For me, this was the turning point in a meeting that I didn't want to happen. I saw a pretty woman who had a limited knowledge of the English language and yet she had a quiet control over her life. I liked what I saw and decided that I wanted to see her again. Luckily Nam pushed and Pailin and I shared phone numbers and Facebook addresses.
Greg then insisted that I give a demonstration with the sword. Not anticipated and not wanted but I agreed. Later that evening I removed my socks (Tujunga House is shoeless), gave a demonstration, and shocked both Annette and Pailin, who were on the couch. Both shrank back in fear. Not my intention.
It was time for everyone to leave. Pailin came with Nam and Greg, and as the driveway is sometimes rough to back out onto the street I offered to signal when all was clear. Numerous attempts to get Greg out of the driveway failed. Finally Pailin stepped from the car. "Nam and Greg asked if I like you, and they said that if I do that I should hug you goodbye." We hugged.
I had posted the following words on Facebook on June 17, 2013:
"Nervously I said 'yes,' [to Nam's request] but whatever the future brings it was a good 'yes,' for I had a terrific day/evening w/five people—five friends. I've done a fair amount of talking about Indian wars friends on the blog, but the next one will deal with the key friends in my L.A. life … "
The beginning
A day or so after the dinner party I contacted Pailin about seeing her again. She said, "I don't know. I'll get back to you." She did, a day or so later, and her answer was positive. We decided upon Thursday.
On Thursday we drove to Santa Monica to explore the cliffs above the beach. The staircase down to the beach, the beach, the pier boardwalk, and eventually the Santa Monica open mall, which led us to a Thai restaurant. We got to know each other. We joked, we took pictures, we had fun as we explored. I found a human being who was frail and yet an adventurer, I found a lady who was shy and yet open, and most important I found a person I wanted to know.
I had found a small shy person, but one who was excited discovering the world. In a previous blog I had compared her to the English seaman Sir Francis Drake and the American frontiersman Kit Carson. These comparisons are massive compliments.
We had a language barrier that we dealt with and we enjoyed each others company. Pailin was special and I wanted to see her again and again. And over the coming weeks we would see each other. … The Autry National Center and the Los Angeles County Museum of Art, and we began dancing the salsa to live bands at the Autry on Thursday nights.
We talked about our pasts and learned some of the tragedies and sadness we had survived. Learning of Pailin's father's, son's, and mother's passing within three years and of her desire to leave Thailand as she found it impossible to live in her homeland and deal with the horrific loss of her loved ones that lived with her on a daily basis.
Early on in our relationship she told me that many years had passed since she last loved someone and didn't know if she could again. At the Autry she asked me to give her time, that she needed time.
By then I knew that I knew someone special, and I did.
There was absolutely no pushing. When we could we saw each other. We got to know, really know each other, and we became comfortable in each other's presence. We communicated mostly with Skype as we could see each other and share our environments as we talked. We joked, and let me tell you this is one thing I'm good at—pulling people's legs and playing games. Pailin gives as good as she receives, and she loves playing around.
The dancing at the Autry ended after only six weeks and summer drifted toward fall.
A tragic time
Pailin lived through a stretch of roughly three years at the beginning of this century that were devastating. I don't know how she survived, much less created a positive life for herself.
Her father died in 2000, her son in 2002, and her mother, who took care of her after her son's passing, in 2003. After that her "sister," who was a colonel in the Thai Army took care of her. At the time Pailin had a successful business. She had three restaurants in Lampang Province, Thailand (the Central Hospital, the military hospital, and the military golf course). Her days began at six in the morning when she shopped for that day's food and had it delivered. Her day ended at midnight after overseeing how everything was prepared. But the pain was overwhelming, and she decided that she needed to leave Thailand and find a new life.
Every year on the anniversary of her son's death, Pailin visits Wat Thai, the Thai Temple of Los Angeles in North Hollywood, Ca., to pray for her son.
Our first adventure
I had an upcoming talk on Lt. Charles Gatewood and Geronimo at an Order of the Indian Wars (OIW) event in Tucson, Az., in late September. At this time we had barely pecked each other on the lips. I decided to ask her if she'd like to go, and when I did, I made it clear that she would be safe in my presence. To my surprise she said, "Yes."
But Pailin wanted more than a trip to hear my talk—she wanted to explore. She indeed has Kit Carson and Francis Drake blood flowing through her veins.
We left LA in the wee hours of September 25, 2013, and reached Tucson by mid-afternoon. Mike Koury, who heads the OIW, kindly paid for an additional night for us at the hotel. That day we basically kept to ourselves before going out for an early dinner.
---
My visits to Tucson date all the way back to the early 1970s, and beginning in 1995 and continuing for 10 years for two Gatewood/Apache books. In 2012 Glen Williams and I drove to Tucson to see the disappointing Geronimo exhibit at the Arizona Historical Society and to explore southern Arizona.
I didn't have any photos of the talk and Mike Koury (OIW) kindly supplied me with two the other day. I gave the talk at the Radisson Suites Tucson on 26sept2013. The next day Mike and his crew of Apache experts led a three-day tour that tracked Geronimo and the Apaches through the American Southwest.
---
The next day I spoke about Gatewood finding Geronimo, Naiche, and the remaining Chiricahua Apaches in the Teres Mountains in Sonora, Mexico, talking them into returning to the United States, making sure that they reached Skeleton Canyon (35 miles north of the international border) safely where they officially surrendered to end the last Apache war. The talk is on You Tube: Gatewood's Assignment: Geronimo.
Guidon Books, Old Scottsdale, Az.
After the talks the OIW members met for hamburgers, hotdogs, and potato salad, which is food we don't eat. We made an appearance at the north side of the swimming pool and talked with friends before we departed to eat at a highly recommended Southwest restaurant. The next morning we were up early and on the road. We had miles to go with a stopover in Old Scottsdale to see Shelly Dudley at the new location of Guidon Books (she and hubby Gordon took over after her father Aaron's death). Good times for me seeing an old friend in a great new location. The signing of books and exploring the huge new space. Pailin was like a kid in a candy store.
Montezuma Castle National Monument
Miles to go and the Vette cruised northward. An impromptu short detour for Pailin to see her first American Indian ruins.
The Montezuma Castle National Monument is a perfect example of long-gone civilization that is still available to view in a protected valley with cliff dwellings (unfortunately visitors can't explore the ruins that are high above on stark cliffs). The Sinagua people, which were pre-Columbian people whose culture was closely related to the Hohokam and other people indigenous to the American Southwest. It is a wonderful, quiet, and pristine place to visit. Peaceful, beautiful, … I could live here.
Williams, Az., the gateway to the Grand Canyon
I had hoped for Pailin to meet two of my friends, novelist Gary McCarthy and his wonderful wife Jane. It wasn't to be.
The temperature dropped by the minute, but still I was able to lead Pailin on a cool walking tour of Williams. She loved it. We ate at a Mexican restaurant that I like very much. Thai people cherish their spicy food, but this salsa verde was way too hot for her taste. BTW, I don't buy salsa verde anymore, for the Thai version of it is to die for. She makes it for me whenever needed. If you haven't experienced what I call "Thai salsa verde," you are missing one of the great taste pleasures in our world. I often tease her that I'll dip watermelon in it. "No-no-no!! NO!" she proclaims. I do love teasing.
The Grand Canyon … for a morning plus
You need to know that Pailin and I are two people from different cultures, that we have experienced bad times, and that although we are thrilled to know each other that we viewed our relationship during this trip closely. Mainly, who is this guy and is he for me, and who is this lady and is she for me. By this late date you can guess the answer.
Talk about being on the road early and making the most of our time, we had plenty of time to experience the south rim of this American treasure. And boy has it changed since I last visited in the early 1980s. Pailin had visited in 2012 (I think), and she knew a lot more about it than I did. I followed her lead and we maneuvered easily and quickly to what she thought we should see.
The time was too short, way too short, and we had to return to the Vette and cruise at a fast pace for we had miles to cover in a shorter time than we had allotted for the drive. Pailin loves to travel, and the miles passed easily as we chatted and worked on the English language, and to a lesser degree the Thai language. Not because I'm lazy, but because she has a great desire to master the English language.
Our destination was the Excalibur Hotel in Las Vegas, Nevada.
Pailin and I don't gamble. So what was our rush?
The reason was a joke. Even though we had a confirmed non-smoking reservation and had paid in advance, Excalibur made it clear that when check-in for all rooms became available on a first-come first-serve basis. On the phone I had made it clear to the hotel staff that we would not sleep in a smoke-polluted room. We had chosen Excalibur as it was a location that Maverick Airlines picked up travelers, and they would pick us up the next day. This was of major importance for what Pailin wanted to do on the trip. And believe me, I bought into this 100 percent. We did not have a problem when we checked in even though we were two hours late. As Excalibur had no decent restaurants, we ate Thai food at another hotel and then went to bed early.
September 29, 2013
With Maverick Airlines scheduled to pick us up early at the hotel we got up before first light and prepared for what would soon happen. Both of us were excited. We had been forewarned to dress for cool weather and we did.
On this morning I realized that I knew a lady who had the same view to walking into the unknown as I. We were about to do something that neither of us had done before, and Pailin was ready to step into whatever was about to happen. Wow! I had never seen this before. The oversized minivan picked us up and we drove to Henderson, Nv., and the helicopter that would deliver us to the Hualapai Indian Reservation on the west side of the Grand Canyon.
I had worked on a film in 1979 called Raise the Titanic, and doubled Richard Jordan. I spent 11 days at sea on a U.S. nuclear helicopter carrier (will have to dig to find the vessel's name, USS something) off the coast of San Diego (we went far enough to sea that the California coast wasn't visible). I'm sorry to say that this is a forgettable film, but I had a great three months of work. The Pacific Ocean was rough, the wind harsh, and the vessel bounced like a duck toy in a bathtub. The director had a shot wherein a helicopter would land on the ship, I would climb into it, it would take off, and then land on the vessel a second time. I presented my price and the director rejected it; I would work for my usual cost. "No way," I said. "You pay what I want or I'm not getting on that damn thing." I felt certain that tragedy loomed. "You'll work for your usual fee." I shook my head. "No. Put Jordan on that frigging thing." Makeup applied a fake beard on a sailor to match Jordan's and my beards and he worked for free. I was thrilled when the helicopter took off and then landed safely on the vessel. That said, I had made the correct decision.
Our destination: Hualapai Indian land on the west side of the Grand Canyon.
At the Henderson airport we boarded the Maverick helicopter. Let me tell you that cruising at 1800 feet is cool. Let me repeat that—COOL! Actually I would have liked to have flown closer to the ground but was told that this would be dangerous.
We landed on the Hualapai Rez and began to explore. Pailin had had an introduction to the Indian wars, she had visited Indian ruins, and now she walked on American Indian ground. She had entered my world, and although she hadn't realized it when she told me what she wanted to do it had come to pass.
Like I said above, the spirit of frontiersman Kit Carson and pirate Francis Drake flows through her. She is an adventurer, an explorer, and she was in her element. LK couldn't have been a happier guy.
The time was short—too short, but we made the most of it. We stepped onto the famed "Skywalk." and we explored the upper regions of the cliffs on the Hualapai Indian Reservation.
Hours passed, and it was time to return to Las Vegas and reality. Another helicopter ride and that would be cool. But a sadness hung over us for we both knew that our trip would soon end, for the next day, 30sept2013, we would drive back to Los Angeles.
We had six days together. We had cruised along open roads and we had explored. We came to know each other—really know each other (without being intimate). We felt comfortable together. What already existed but to date was unsaid, we knew. More important, we knew that we wanted to spend more time together. We had our lives in front of us.
LK's past and a peek into who I am
To keep this short I had been married once, and if you remember the Jerry Reed country song called "She Got the Gold Mine (I Got the Shaft)," you get the picture. It ended in divorce in 1992. A jealousy/hatred/conspiracy theory (for almost everything) had unleashed a desire to destroy any happiness I might find in life. … This would play a major impact on the next 22 years of my life, and it hasn't ended.
At the time I wrote for a company in the South Bay (SoCal) and in the 1990s I saw a woman walking down the street reading a book. Whoa-baby, she reads! This was my kinda lady.
In the fall a little over a decade later I dropped off a sport coat for cleaning. On that day a big customer of the shop, Johnny Depp's then leading bodyguard, was present. We chatted. An hour passed in conversation (and the owner joined in when there were no customers). Two days passed and I picked up the coat. As I was leaving she said, "I will see you again, won't I?"
Two Asian ladies, and two long relationships. Not planned; they just happened. There were other relationships for shorter lengths of time with ladies of other race.
I bring this up for what I consider a major reason. My ex-wife was white, and often other women (white and other races) have accused me of being racist, and only targeting Asian women. Some of these women are good friends, other women have been friends who may have been jealous and wanted more from me than I could give. This list includes my daughter (but her words are coming from her mother's mouth). This accusation is incorrect, for just quirks of fate brought me together with the two Asian women listed above, as well as the other women. I have never been a wolf on the hunt. After the last long-time relationship ended, I didn't ask anyone out for two years (and that was Pailin). My days have been long (doubly so when I worked for a company and met freelance deadlines, and even more so now as working for companies is long gone in my rearview mirror).
I'm not a recluse and I'm not anti-social. Actually I'm just the opposite, for I get along with people.
Enter Pailin in a way I never dreamed possible
Our trip made me begin to think about something
I had never considered doing before in my life.
Ever.
Pailin and I communicated using Facebook chat (which allowed her to translate words before replying) and with Skype late at night (which allowed us to see each other as we talked), She lived in Los Angeles, an easy drive down the 170 and 101 freeways, but she wasn't happy with the area, and neither was I. Her apartment was close to Beverly Drive and three nights a week music and loud talk blasted from a bar until two in the morning. Drunks were in evidence for at least an hour after the bar closed. …
In early October while we were sitting in my dinning room, hanging out, and talking about anything, nothing, the English language, Thai words, actually I don't remember, I asked her if she'd like to move in with me. A first, for me as I had never-ever considered doing this in the past. Never. She said yes, and planned on completing the move on November 1. This started me on a major project (which still hasn't been completed due to writing projects) of tearing the house apart. It was over-crowded for one person, and now I needed to make room for two.
Stuff had to go, and for the next two months both the black trashcan (trash) and the blue trashcan (recyclables) were full to the brim. I still have a spare bedroom (my research room that guests or my daughter stay in) full with stacks of books that I hope to sell (some have been given to people with interest in the Indian wars that have helped me or are long-distance friends or in one case my great friend Glen Williams).
Mañana … or mañana or whenever I have time (and the spine is in agreement). I have been turning the front yard (that is hidden from prying eyes on all sides by shrubs) into a desert. A lot has been done, but much more still needs to be completed, including adding more stepping stones and small colored stones. Again, time is the culprit.
On October 18th Pailin began moving her belongings into Tujunga House. It was a fun time, an exciting time as we began to work at merging our lives. I told her to feel free to make Tujunga House her home, and she did. Although Pailin planned the move for November 1, she moved in on October 27.
A merging of cultures
My mother and father did not harbor any racial prejudice, and they greatly impacted my life. In 1970 I joined Volunteers in Service to America (VISTA). I had hoped to work with American Indians, but by the time the first week of training concluded in Austin, Texas, I had become a celebrity. At that time Austin rolled up the sidewalks at 10:00 PM. We lived in a skyscraper dormitory on the University of Texas campus. Everyone bought booze and brought it back to our living quarters (ladies on one floor and the men on the floor above them). We hung out in the bedrooms (two split by one bathroom). One night around two in the morning about 20 of us were still up and drinking (recruits and representatives that would eventually choose us). I said something to a white couple that I liked. I don't remember what, but it was probably out of line. Suddenly I had a knife at my throat while I was held from behind. It was one of the Chicano representatives, and he didn't like what I said. Let me tell you that my heart was pumping. Somehow I kept my cool and told him that if he killed me his cause would be dead and he'd be in prison as there were just too many witnesses. After about a minute he released me and the incident ended.
At six when I appeared for breakfast I was surrounded by people that wanted to know the details. What details? I was scared stiff and was thrilled to see the sun rise. At the end of the week we received a lot of shots and the Indian, African American, and Chicano representatives began to choose their teams (just like you do for a sandlot football game). I went early, but I didn't get to work with Indians. I would work with African Americans in east Oklahoma City. Cool stuff; perhaps I'll do a blog about this in the future. Unfortunately there are no photos.
After my mother died in 1980 my father opened his door to young people that needed a place to stay (and it didn't matter what their race or religion was), and this continued until his death.
For years I had enjoyed being around people of different races and colors, but it was in 1990 when I landed the first of a handful of technical software writing positions that the doors began to open to people from around the world. It was a slow trickle at first but by 1998 the writing was on the wall, and by 2000 when I left the world of space, caucasians were close to becoming minorities in the software world. Within a handful of more years this had become fact. I couldn't have been in a better place for I was totally at home working in a melting pot of people from around the world.
Racism was unacceptable when I was young, …
and it is unacceptable today.
Pailin, like myself, is totally at ease with people of other races. We were meant to meet; it just took time before that day happened. She is good with my culture and I with hers. Our world would soon become a melting pot of Thai and American culture.
A new life for us
Pailin and I were already comfortable together and we didn't experience any uncomfortable moments while making the transition to living together. Work on attempting to make Tujunga House workable for us would continue for months, and we still have a long ways to go before the house and yard are as we want them. The problem has been merging this with my writing workload and my spine.
Pailin is my lady, my love, and as my great friend. Veronica (Vee) Von Bernath Morra, from Massachusetts, says that Pailin is my muse. Vee is right, for she is. I cherish each and every minute I have with her.
Our main meal of the day is breakfast, and it is a major part of our day. Pailin prepares almost all the meals. I'm a good cook, but Pailin is better. She loves to cook and the kitchen is hers. Once in a while I cook, and this usually is along the lines of salmon or trout or skinless chicken with vegetables and salad. Pailin has become a wiz cooking salmon her way (which is new to her). Her Thai meals, which are very healthy are to die for (I mean, "to die for") for they are "alloy ma" (delicious). Her soups are out of this world, all are good, but I probably have a top 10, and whenever she repeats one of them I point out that it is one of my favorites and I am capable of eating two or three or four days in a row. Her fried rice, which isn't "fried" rice like when you eat out. Not even close. Veggies and sometimes ground turkey (which I introduced her to) or fish or shrimp. Alloy ma! We buy tilapia often. She cooks it and the following day she strips the flesh from the bones and mixes it with herbs, green onions, lime juice, and other goodies including chile (chile peppers aren't just from the Southwest), and there is a bite. It is served cold with lettuce, carrots, cucumbers, and rice (sticky or regular or both). This became an instant favorite. There are noodle dishes, and rice dishes, and she can do wonders sautéing chicken or fish or tofu (we eat a lot of tofu, something I've been eating for decades) with a variety of veggies and served with rice. This is just a handful of the many meals she serves (and I'm shortchanging her on what she can do with fruit, including cooked bananas; especially Thai bananas, that are readily available in Los Angeles).
Thanksgiving 2013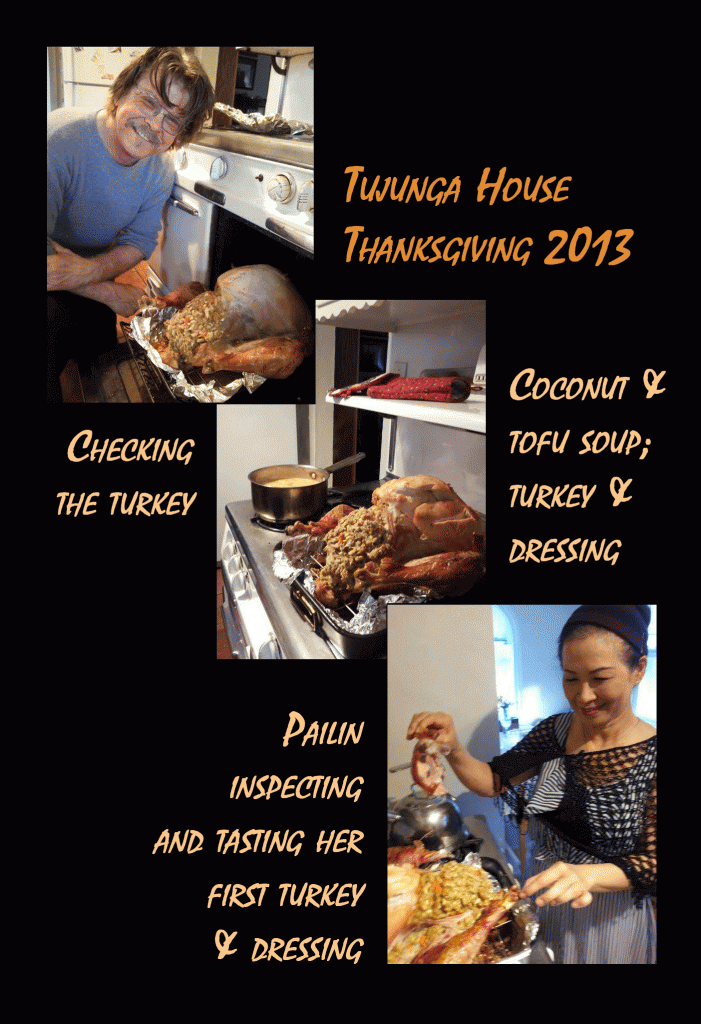 Thanksgiving is one of my favorite days. I have a lot to be thankful for and I love the traditional dinner that I grew up with—mainly turkey, dressing, and the various vegetable side dishes. I've been cooking turkeys by myself for well over two decades (twice a year), and over this time I have made the recipe for cooking the bird and dressing my own. Sometime in the 1990s I decided to skin the turkey. By then I had also had a great Southwestern influence in what I cooked. Traditionally, per my mother's cooking, dressing included celery, mushrooms, and onions. In 1992, my first year flying solo, I added Anaheim chilies to the mix (and it has been a constant for over 20 years). Turkey and dressing is one my favorite meals (and it can go with anything.
Pailin is a marvelous cook; she enjoys cooking and it is one of her pleasures in life. I can't go into detail with her cooking here, but she could easily open a restaurant that would serve superior-tasting dishes. My problem is that she can cook so many great meals and in so many different ways that she seldom repeats a meal. My problem is that when I really like a meal I want to eat again and again (that is, not once and let's move on). Without going into detail her soups and main dishes are out of this world.
Pailin and I spent the day together—just us. I cooked turkey and dressing and she made coconut and tofu soup and rice. We mixed and matched, and it worked just fine.
Some health problems hit me at this time and they would last for almost eight months. It would turn me into almost a vampire, a creature of the night, as I had to avoid the sun at all costs. The virus is not gone, but we have it under control (fingers are crossed) and I'm no longer using multiple antibiotics. That said, I still avoid the sun as much as possible.
An operation happened (not mine or Pailin's) and I needed money to pay for it. I agreed to a contract for pay to edit, fix, and rewrite a novel. This evolved into a partnership. It was needed money, but the book when I finally complete it will be something that I'll be proud of. My partner is a good man, a physician (and if you've seen some of the blogs you know him as Robert Goodman, MD), and if it wasn't for him making a decision of what I needed to do in 2002 I would have been walking with angels for years (notice that I didn't say hanging out with the devil).
December, good friends, Christmas, and New Year's Eve
Many who don't know SoCal or Los Angeles badmouth LA all the time. They do this without knowing the City of the Angels or Southern California. They do this without knowing what they are talking about. LA has smog, but it is much improved; read less than before (Denver has smog, Phoenix has smog—major cities have smog, and it depends where you are in that city in location to the sea how much is present). Definitely LA has traffic. It has worsened over the years, and it will get worse. Too many people want to live in LA (even though there is an exodus the population continues to grow).
Seventy or eighty degree weather with sunshine and no smog in December.
That about says it all (if you forget the traffic).
Many people talk up the thrill of a white Christmas. Not LK. Back in 1997 a company in Boulder, Co., flew me in for three days to interview. They paid all expenses, including a rental car, and extended my time to over the weekend so I could look at property. To save them money I stayed at a friend's house in Longmont. He was the leading engineer at the company. One night after dinner he took me outside to experience the temperature (my cold weather gear is a sport coat and scarf). He wore a t-shirt; I was shivering. "See," he said, "not bad." He had a thermometer outside; it was 18 degrees. After flying home the vice president said he was working on getting me a raise over my LA salary and would pay for the move. Before the deal was finalized he left the company for a position in California. The money offer was reduced and the company would not pay for the relocation. "Thank you, but no thank you," I said politely. Although the Rockies had snow (the roads had been plowed), there was little on the ground in Longmont. In the coming years I would be snowed in during three separate trips to Colorado.
Pailin meets Vee
Vee Morra, my friend since our college days, visited SoCal from Massachusetts in early December 2013. As she was staying with her long-time friend Saul Saladow, who spent four years with me in the Theater Department at CSUN (and who went on to have a good career as a film editor), I invited them over for dinner. Pailin and Vee hit it off immediately. This made me feel good. The four of us enjoyed a good day and evening hanging out and chatting. This was an evening that I didn't want to end. Vee and Pailin have continued their friendship on social media.
Vee Morra (left with Pailin), became my friend at the end of the 1960s, when she and her husband, Doug Matheson, and I connected. Doug, an actor, also obtained his B.A. from theTheatre Department (now California State University, Northridge). Times change and Vee and Doug divorced, but eventually moved to Massachusetts to be near their son. I'm proud to say that they remained friends, and toward the end of his life she took care of him. Vee is open, inquisitive, and a true and loyal friend. She and Pailin quickly became friends on 12dec2013, something I was thrilled to see. They are sitting in the living room at Tujunga House. (photo © Pailin Subanna-Kraft, Veronica Morra, and Louis Kraft, 2013)
Pailin and my work on the house continued, but due to me falling behind on my writing the progress slowed. It had to or I wouldn't be going to bed 24-7, but one of the places where it continued in a big way was in our bedroom. I'm proud to say that Pailin did a major redesign of it. It is our room, and it is her room. Although it still houses some of my important book/article material (including my work, Errol Flynn material, and Indian wars material not Wynkoop or Cheyenne Indians related), her influence dominates the room.
Christmas
On Christmas Pailin shared gifts and our love. We spent the day together quietly (and I was one with the birth of Jesus). We ate Thai food that Pailin cooked on this day (the reason follows). A good day for both of us enjoying our environment.
The next day we again celebrated Christmas, but with two good friends, Pete and Nina Senoff, who came over that evening. I cooked turkey and dressing with Anaheim chile and Pailin and Nina cooked Thai food. All three of us attempted to keep the spices as mellow as possible. Pete, whose stomach can't handle food with even a hint of fire in it, avoided everything spicy.
Put Pailin and Nina together and they are like sisters whenever together.
Everyone thinks that Pailin and Nina brought Pete and I together. We had gone to high school but hadn't seen each other in years. Nope, it was the other way around. Pete and I reconnected in 2012, I met Nina, and once Pailin and I started dating I introduced her to them. It's a good combo. A good night for all.
New Year's Eve
New Year's Eve arrived. This has not been an evening that I have celebrated in years. The changing of the year represents another year older. I also deal with a lot of death and sadness at this time.
For the Thai people, this is an evening of prayer and celebration. Wat Thai, the Thai Temple in North Hollywood, which I had visited for the first time on Pailin's birthday the previous July, and had visited numerous times since, hosts a festival that includes religious ceremony. Nina and Pete attended, as did some of Pailin's other friends. It was a chilly evening, dropping into the 50s. It also presented a mix of prayer and celebration that I had never experienced before. BTW, I should add that I have always felt welcome at Wat Thai; the Monks have always been open and friendly and concerned about my well-being.
Introduction to a writing world & the beginning of our life together
As I hinted at above, my writing workload is extreme and 2014 has been an exercise in not falling too far behind. Without warning an Immigration meeting that I thought would be in mid-September at the absolute earliest changed. Suddenly it became August 11. Although I had been moving slowly toward what I thought would be a fall deadline turned my work schedule upside down. And let me tell you that the pressure built as I scrambled to prepare what we'd present (while seeing my writing output hit the skids). The growing pressure to prepare properly for our interview with Immigration on August 11 has dominated much of my time for weeks.
The above means not much has been accomplished in 2014 (as far as getting closer to book deliveries). See below for a current status:
I did take three weeks off from my projects to review a proposed National Park Services brochure on Ned Wynkoop (at the drop of a hat).
Writer/historian Jeff Barnes asked me to complete an interview for him (he posted it on his blog; An Interview with Author/Historian Louis Kraft).
Good Sand Creek research has been partially completed at the Braun Research Library (Autry National Center) but a lot more is to come.
Writing continues on Sand Creek and the Tragic End of a Lifeway manuscript (although good progress content wise, I'm down on word count). This will change after the Immigration interview.
Great progress on The Discovery, the medical malpractice novel I'm doing with Bob Goodman (this, also, has been impacted by Immigration, but I will meet my deadline for the next 100 pages).
The Flynn/de Havilland book creeps forward.
I have promised Greg Lalire that I will complete the Geronimo article by year's end (it is scheduled for the October 2015 issue of Wild West).
I wrote two short pieces for the August 2014 Wild West upon Greg Lalire's request earlier this year, and completed the copyedit process, which also included "Wynkoop's Gamble to End War."
And finally the blogs. They are mandatory, for they continue to link me up with writers, historians, friends, and fans. They bring in information and will hopefully result in additional work. Let me tell you that writing them and doing the photos/art/design is not a two-day project. I have a great friend in Denton, Texas, Glen Williams, who provides editorial comments when he can.
Pailin gives me room when I need to get something done when she is home. She never complains, and wants me to succeed.
Add the painting projects inside the house (not to mention the removal of stacks of books), the ongoing yard work (it is a jungle), and work to complete turning the front yard into a desert, and I just do not have enough hours in the day. … Also add that I spend about three hours a day that is geared toward me walking and sleeping.
But in spite of all of the above, Pailin and my lives continue in what I can only call an exploration of two lives and an ongoing friendship and bliss than neither of us had experienced before. She is like no other person I have known before. Every day is new and different and is based upon the bond that we took care to create slowly.
The importance of February 14
Before 2013 drew to a close Pailin and I had discussed marriage, and us remaining together for all time. She was my lady, my life, my best friend in ways totally different from any person I had ever known before.
I had thought that we'd marry in late spring or during the summer. Pailin wanted to marry on Valentine's Day (February 14). I told her that this was not the best day in my life. Although my father and I had been at war for our entire lives (this is memoir stuff) he was always there for me. When my mother (his wife) went into the hospital for the last time on December 26, 1979, we spent every waking hour together with her until she died 10 days later. This ended our war. We became friends and bonded as I had never done before or since. When my younger brother died tragically 10 years later it was just him and me. He had a daughter, my sister, but she was out for herself. She had no clue her mother was dying, didn't know her brother, and again had no clue her father was dying. I warned her two days before he died that the end was at hand, and on that fatal day I left over 30 unanswered messages on her phones. I took care of my father the last five-six years of his life, and our friendship and love grew. In the wee hours of February 15 my phone messages were answered. Defending her reason for ignoring my initial comment that our father would die, my sister said, "I didn't believe you." It was more than that; she had her weekend planned. My father died on Sunday, February 14, 1999.
February 14, 2014
Pailin and I arrived late at the Albertson Chapel, having been caught in traffic. This image was taken shortly after we arrived. Left to right: Sabrina Subanna, Kobie Poopan, Annie Aunroun, and Pailin. Right rear: Jackie Vinai and Anna Pinij). (photo © Pailin Subanna-Kraft 2014)
I told Pailin that February 14 was not a good day for me. I also told her that it could be a good day for me, that it could be my last day with my father and my first day with her as my wife.
We worked hard and made it happen. February 14 is a day I'll never forget.
Most of Pailin's friends are in LA (or in Thailand, as are her brothers and sisters). Except for a few, my friends don't live in LA (they are spread all over the place). We kept our wedding invites small (actually 19), and all lived locally. They had about a two-week notice for a day that fell on a Friday. We have lots of photos taken by our friends, but there isn't room here to publish them (some have been seen on social media and I have printed others for the upcoming Immigration meeting).
I invited a few friends, including Marjorie Chan (a film & TV costumer that has been my friend since we met in the early 1980s), Pete & Nina Senoff, and a few more. The other guests were Pailin's close friends, including Sabrina Subanna (her niece, and a very special person in my life too), Montanee Sothtitham and Kobie Poopan, two ladies I enjoy knowing, Caterine Jensin, Siwan (Mam) Techadi and her husband Chai, Jackie Vinai, Cherry Keawpanyo, to name some. Other Thai friends had been invited, but their bosses refused to allow them a few hours off work. You do not want to know my opinion of these two employer assholes, for it isn't printable.
Most everyone had to return to work, but those who could came to a reception at Tujunga House, including Caterine, Jackie, Sabrina, and Pete, and two other gents. Pailin prepared Thai food (herb soup, grass noodle salad, and fried noodle), and two of her friends (Cherry Keawpanyo and Pulsri Inwattanna) who couldn't get time off created a Thai desert that they gave her on a platter (Kanomchan). Good food with good friends.
Six days after our marriage we visited Fernando Howard, who married us. He is an Apache, living in Los Angeles. During our pre-marriage meetings he had told me that he studied his people's history, and especially Chiricahua Apache war leader and mystic Geronimo. As you can guess we talked about Geronimo and the Apaches. He included an Apache prayer in our wedding ceremony. During our visit Pailin and I gave him one of my books, Gatewood & Geronimo (University of New Mexico Press, 2000). He was thrilled, and it made me happy.
We did not go on a honeymoon. That is still to come. Soon I hope.
April and the Errol Flynn connection
In June 2009 I was set to speak on a panel at a Western Writers of America convention, but my back went out. As it was a road trip I canceled. Saturday, June 20, 2009, marked the 100th anniversary of Errol Flynn's birthday (he had died at age 50 in 1959).
Jack and Louise Marino hosted a party at their Burbank, Ca., home, a party that I would have missed. Jack and Louise only lived a few miles from Tujunga House so the drive wasn't too uncomfortable.
I know a lot of Flynn people due to my Flynn writing. But on this day, other than seeing friends I had the great bonus of meeting two gents that I knew long distance but not in person. David DeWitt, who hosts a terrific Flynn blog (The Errol Flynn Blog), and Tom McNulty and his wonderful wife Jan. Tom wrote by far the best biography on Flynn (Errol Flynn: The Life and Career, McFarland and Company, Inc., 2004). BTW, Tom has a unique blog that reviews literature and at times adds his comments about Flynn and his work (Thomas McNulty's Blog).
David was a houseguest in early 2013 while he visited Los Angeles to see if he would move here. Good times as we bonded and spent our time chatting about anything and everything. Alas, he decided to make South Carolina his home.
Jump forward five years to April 2014
Tom and Jan again visited SoCal to see the Writers and Illustrators of the Future Awards ceremony and see relatives and friends. On April 11 they spent some time with Pailin and myself at Tujunga House. Jan and Pailin immediately became sisters and the four us enjoyed each other's company, which of course included Flynn talk. The time passed in a flash, but we did see them at the writers and illustrators awards ceremony two days later at the Wilshire Ebell Theatre in Los Angeles.
The Thai New Year
The Thai people have a number of holidays, but the most important is Songkran, their New Year, which happens on April 13.
Pailin asked if I would participate. Of course I would. This day, which includes festivities, is a very holy day with prayers. It also includes donations and gifts to the monks. We joined the celebration at Wat Thai of Los Angeles in North Hollywood. Many of Pailin's coworkers and friends also attended, and many of them are my friends now. Also present were Belle and John Marson Henning, who bought the Thai Swedish Massage in Studio City (it is now called the Belle Sabai Thai Massage), where Pailin works as a massage therapist.
There are prayers and there is a festival. Wat Thai is open to all and the atmosphere is always friendly. I always feel welcome. More, I'm always open to experiencing something new. I can't/won't say anything in detail here for honestly there is still a major language barrier for me. I try. I always try. And like Spanish, French, Apache, and Cheyenne, I have Thai words, … more Thai words than the others except Spanish, but this won't last for long.
My knowledge will grow with time. It always has in the past, and it will in my future.
Flynn continued to dominate our spring
A friend who was present when Pailin and I met on June 15, 2013, saw that Flynn's last A-film (and his next to last film) was going to play at the Egyptian Theatre in Hollywood on May 15.
Good timing for us as Pailin had the day off. I thought her first complete viewing of an Errol Flynn film would be one of his swashbucklers or westerns as she likes action films. She had seen the end of San Antonio (1945) and Adventures of Don Juan (1948) when I hadn't completed exercising before she arrived home at night (I exercise with film as it is a great way to study plot, character, and dialogue, and in the case of Flynn a good way to study his acting as I'm writing about it). She liked both. She would now see The Roots of Heaven, which dealt with saving elephants in Africa. Flynn had a supporting role.
After the screening I immediately asked Pailin what she thought of the film. I feared that she might have been bored, but she wasn't. The film had a wide scope with a good mix of characters, it slipped in humor and had the threat of violence, and unfortunately death. We saw a great color print.
She has since seen They Died With their Boots On (1941) with Flynn as George Armstrong Custer and Olivia de Havilland as Libbie Custer (this is the film that hooked me on the Indian wars). She loved the green onion scene with Flynn and Olivia, and since we often eat green onions she play-acts Olivia's Libbie who lied about loving onions. Next up for my lady, The Sea Hawk (1940) or Adventures of Don Juan. I still have hope that she'll agree to learn the sword. Hope always burns eternal.
For those of you waiting to see The Last of Robin Hood, those days are getting
close (at least in Los Angeles). It will begin screening in LA at the end of August. Kevin
Kline plays Flynn (if ever I had produced a film on Flynn during Kline's entire film career he
would have been my only choice for the part), Susan Sarandon plays Florence Aadland
(Beverly's mother), and Dakota Fanning plays Beverly Aadland (Flynn's companion
and last love). With luck Pailin can get the night off when I see the film.
The writing world put on hold
Progress on Sand Creek and the Tragic End of a Lifeway has been slow as research has dominated the time allotted to this manuscript. June kept me at the Braun Research Library, Autry National Center (former Southwest Museum), at Mount Washington. Pailin wants to take part in future research trips that must happen later this year or next year. Her enthusiasm is infectious. She is interested in exploring everything, and is always ready to go.
On June 26 Pailin and I met Bob and Doris Goodman at Flemings in Woodland Hills for dinner. Bob is the physician that I had partnered with for The Discovery, a medical-legal thriller that is based upon reality but which is fiction. I've known Bob and Doris for about 25 years. Bob is my internal medicine and heart specialist and has played an important role in me continuing to walk this earth. Over the years we have become friends. Back in 2009 he hired me as a consultant on some of his writing projects. In 2013 my working relationship with him deepened when I agreed to partner with him on this novel. Although it is character-driven we are approaching as a thriller to keep the pages turning.
Pailin still has the ongoing task of mastering the English language. Let me tell you that she has made great progress. It is something that she works at on a daily basis. Word meaning and pronunciation combined with sentence structure. My lady is shy but once she meets someone she is capable of opening up with a warmth that to date has allowed her to win over all of my friends that she has met.
At Flemings Doris and Bob didn't allow Pailin's vocabulary or shyness to hinder this first meeting. Doris was absolutely marvelous and within half an hour she and Pailin had bonded big time. And Bob was right there with Doris in opening up to Pailin's charm.
A July 3, 2014, notice
Progress had continued on The Discovery, as it had with the Sand Creek manuscript. But when a document dated July 3, 2014, arrived work on both manuscripts came to a complete halt. Pailin had been notified that her (and my) meeting with U.S. Immigration would happen on August 11. Originally we had been told that it wouldn't be until mid-September at the earliest. I had been slowly moving toward the latter date with my preparation. Taking more than a month off the anticipated date again placed me in a tight spot in regards to what I still needed to complete for USCIS (United States Citizenship and Immigration Services).
At first I had attempted to continue making progress with the novel, but I quickly realized that I had to stop. Our preparation for the U.S. Immigration meeting is multi-leveled with the ultimate goal being that we convince the agent who interviews us that we are who we claim to be—two people who fell in love and married.
On social media I have shared perhaps 35 percent of the images that we'll present on August 11. A number of them are reprinted in this blog as they help tell our story. Oh, this blog and others will be part of our presentation.
The Fourth of July
The sale of fireworks is illegal in Los Angeles. No matter, for explosions begin three or four days prior to the holiday and continue for days after the day of bombs bursting in air. I generally am a stay-at-home humbug on the evening of the Fourth as I want to hang close to the house with water hoses at the ready.
The above is not a joke. LA is a fire zone even without drought. We are limited to three days watering outside per week (for us, Tuesday, Thursday, and Sunday).
Pailin wanted to remain at home with me on the Fourth as she wanted to experience the war zone (some of her friends gave her grief for not partying with them). The garage is detached and has a flat roof. I placed chairs on it, and we used an extended ladder to reach our perch for our surround-sound light show that would last deep into the night.
The left and right top photos are views from the Tujunga House driveway looking east. The explosions had been set off from the middle of the street about 600 yards away. The middle top explosion is about 1/4 mile north of Tujunga House. The bottom landscape is looking west just before nightfall. The left insert is of a parachute bomb that landed in the brush in front of the entry to Tujunga House. Over 12 other fireworks of varying types landed on the Tujunga House property.
Trust me, the 4th of July is not my favorite holiday as I view it as little more than a fire watch. The police? Hell they get the night off (absolutely no sirens or patrol cars on 4jul2014; on any other day at least half a dozen).
And July 5, 2014, which is a special day
July 5 is Pailin's birthday. We had gone to the President Thai Restaurant in Pasadena on Thursday, July 3, to enjoy an eat-out dinner and to celebrate her birthday partially.
It was a good night for me with my lady, who was oh-so happy.
On the fifth we were up early to eat and do our chores so that we could go to Wat Thai before she had to go to work.
Since her move to Los Angeles Pailin has celebrated her birthdays at Wat Thai.
On this very special day she donated to the temple and the monks prayed for her. This is the second time that I have taken part in this very exceptional day in Pailin's life. I know more now, but not nearly enough. I am now at home and relaxed in the Buddhist environment to which I'm still only an observer. But it is a key day in Pailin's life, and that makes it an extraordinary day in my life.
And in conclusion
Since February we have been working with our lawyer to prepare for what will happen on August 11. We are prepared, Pailin is totally relaxed with me much less so. That said, I'm always relaxed in interviews (tomorrow will be more of the same). For those of you that have supported what will soon happen, thank you. We'll have our lawyer and interpreter present. Tomorrow will be a good day to be alive.